NBC Insider Exclusive
Create a free profile to get unlimited access to exclusive show news, updates, and more!
Sign Up For Free to View
Jenna Ortega to Host March 11 Episode of SNL, The 1975 Will Perform
The mega stars will appear in the much-anticipated episode! Watch Saturday Night Live on NBC.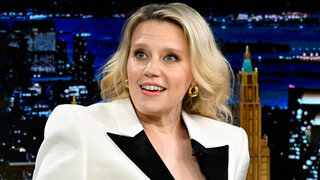 The March 11, 2023 episode of Saturday Night Live has a very exciting lineup with some modern mega stars. While the Host will be making their debut on the Saturday Night Live stage, the musical guests will be returning for a second time to perform some awesome songs. But who, exactly, should we expect to see in the upcoming episode of SNL? Keep reading to find out.
Who will host the March 11, 2023 episode of Saturday Night Live?
Jenna Ortega!
You likely recognize this actress from the smash-hit Netflix television show Wednesday, where she plays the titular character. Wednesday is a re-imagining of the classic The Addams Family tale, and Ortega has been critically acclaimed for her performance.
Before Wednesday, Ortega also had notable roles in major television shows such as Jane the Virgin and You.  As for her recent endeavors, she also currently stars in the horror film Scream VI, which will be released in theaters March 10.
"The best part about the Scream films is it really is such a great community," Ortega said while on The Tonight Show Starring Jimmy Fallon. "That cast and crew, they're my family."
"It's something about my face," she added when asked about being routinely cast in dark roles. "I don't know what it is. People love seeing me scared."
This will be Ortega's first time hosting Saturday Night Live. Despite her stoic demeanor as Wednesday, we have no doubt that Ortega will be able to bring on her comedic side to the SNL stage as well.
Who will be the musical guest for the March 11, 2023 episode of Saturday Night Live?
The 1975!
The English alternative rock band consists of front man Matt Healy, guitarist Adan Hann, bass player Ross McDonald, and drummer George Daniel. They released their first self-titled album in 2013, gathering a large fan base. Since then, they went on to release four more albums, with their most recent endeavor being 2022's Being Funny Is a Foreign Language. The group has been all the rage lately, as their world tour promoting this project is currently sold out.
Hits from the band include "Chocolate," "Somebody Else," "Girls," and more. This will be their second time as musical guests on SNL, as they also performed in 2016 with tunes "The Sound" and "Love Me." 
Watch Saturday Night Live on NBC Saturdays at 11:30/10:30c and next day on Peacock.