NBC Insider Exclusive
Create a free profile to get unlimited access to exclusive show news, updates, and more!
Sign Up For Free to View
What Is Scott Up to on La Brea?
He certainly seems to be keeping things on the down-low.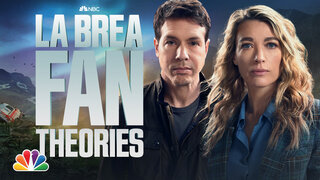 La Brea is known for often leaving audiences with more questions than answers, and Season 3, Episode 2 is no exception to this. There, viewers saw the humorous character Scott (Rohan Mirchandaney) step up and play a major role into possibly bringing everyone back home. However, per Aldridge's instructions, he didn't go about this in the most transparent of ways.  
What happened after Scott and Aldridge went to the tower?
When we left Scott on Season 2, Episode 2, he was entering the massive tower with Aldridge. When we see him again in the next episode, he told Lucas, Izzy, and Sam that Aldridge disappeared after he went into a cave to escape some Mastodons. However, for some reason, Scott pretended to not know that the tower exists when Sam asks about it. Cryptic much?
Why did Scott follow Lucas and Veronica?
Scott then encouraged Lucas and Veronica to steal their food back from the Tongva. Lucas is hesitant at first, believing that Scott has some ulterior motive. "You've been acting weird ever since you've got back from your little trip with Aldridge," he said. Scott then turned on the charm, convincing the other two that he needs them. The three then formed an alliance and began to make their journey towards the fort's secret entrance.
When traveling through the forest, Scott kept muttering some directions to himself under his breath and defensively told Veronica that it's just a "nervous habit" when she inquired about it. Not fooled, Veronica continued to press. "Why is this so important to you? C'mon, I know there's more going on," she said.
Not willing to give up his secrets, Scott shut her down by saying that his reasons were "complicated" and that he cares about everyone in the clearing and wants to protect them. 
While running to avoid the Tongva, Scott tripped, hurt his ankle, and told Lucas and Veronica to leave him at the site. When Lucas and Veronica went on their own way, it is revealed that Scott had been faking the injury the whole time. He scuttered off out of sight, repeating the same directions to himself.
Why did Scott lie to his friends?
When we see Scott again, he steps inside a well-lit hut that belongs to Silas. "OK, Silas, where'd you put it?" he asked to himself while desperately searching the room. Just as he's about to give up hope, a small keycard fell out of a book. "That's what I'm talking about," he said with a sigh of relief before running away with the item in his pocket.
What is the card that Scott found for Aldridge?
Lucas and Veronica managed to take back some food to the clearing the next day, and Scott suddenly tells the two that he's going for a walk and unexplainably wandered off again. Aldridge then approached Scott in the woods. "Do you have what I asked for?" she said with determination. 
"I had to lie to my friends, fake an injury, sneak into Silas's hut, and commit a 10,000 B.C food heist to get this," he responded sternly, handing over the card to Aldridge. "Keeping secrets isn't exactly my forte."
"Well, I'm afraid you're going to have to keep this one a little while longer," she responded, deeply upsetting Scott. She then tried to reassure him that everything is going as planned and that keeping to himself is the only way to protect his friends. Although their first attempt at getting into the building was unsuccessful, she informed him that the card he retrieved for her was key to their journey. However, she instructed him that he now needed to go back to the clearing and wait for Gavin.
Watch La Brea on NBC Tuesdays at 9/8c and next day on Peacock.