NBC Insider Exclusive
Create a free profile to get unlimited access to exclusive show news, updates, and more!
Sign Up For Free to View
La Brea Season 2: Everything to Know
The addicting sci-fi series saw a group of Los Angelenos disappear into a massive sinkhole, only to reappear in L.A. 12,000 years in the past.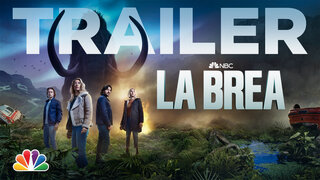 With a heart-pumping finale that saw young Isaiah (a.k.a Gavin) return to his rightful place in the future, we are anxiously awaiting La Brea Season 2—which we're sure will continue to bend all the rules of space and time.
"We're so thrilled to be back in production for Season 2," series creator and showrunner David Appelbaum told TVLine. "Can't wait for our fans to see all of the mysteries and surprises we have in store. It's going to be an exciting season."
Related: These Wild La Brea Fan Theories Will Keep You Up at Night
The addicting first season of the NBC sci-fi show saw a gang of Los Angelenos disappear into a massive sinkhole, only to reappear in L.A. 12,000 years in the past. Of course, this reality came with a series of revelations and high-stakes ups and downs for the disaster's survivors and their loved ones still in the present day. 
Here's everything we know about La Brea Season 2: 
When does

La Brea

Season 2 

premiere and what time does it come on?
La Brea Season 2 premieres Tuesday, September 27 at 9 p.m. ET on NBC. 
Is there a La Brea Season 2 trailer yet?
Yes, we have a trailer! And it looks like Season 2 is gearing up to be just as heart-pumping as the last. We even spot a couple new characters and Gavin, Izzy, and Ella in 10,000 B.C.
Related: How to Watch Every La Brea Season 1 Episode Right Now
Are there any photos from the second season?
Yes! NBC released a number of new photos from Season 2 that may hold some hints about what's to come. You can see every single one right here on NBC Insider.
How many episodes will there be?
Fans will be excited to know the second season will have 14 episodes compared to the 10 in Season 1. 
Is the original cast returning?
As of now, the entire original cast of La Brea is returning to the series with the addition of Tonantzin Carmelo (Paara) and Michelle Vergara Moore (Ella) as series regulars, according to Deadline. We've listed the entire cast, below:
Jon Seda - Sam
Chiké Okonkwo - Ty Coleman
Eoin Macken - Gavin
Zyra - Izzy
Natalia Zea - Eve
Jack Martin - Josh
Chloe De Los Santos - Lilly
Josh McKenzie - Lucas Hayes
Lily Santiago - Veronica
Nicholas Gonzalez - Levi
Rohann Micrhandaney - Scott
Veronica St. Clair - Riley
Tonantzin Carmelo - Paara
Michelle Vergara Moore - Ella
And there will be new cast members, too. Martin Sensmeier (1883, Yellowstone) will play Taamet, a character from 10,000 B.C., in Season 2. 
Are there any Season 2 details?
In an interview with TV Line Appelbaum revealed a few plot lines we can expect in the second season. First up, he addressed where Riley, Josh, and Lilly might have gone when they disappeared into the time-traveling crack of light in the finale.
"In Season 2 they will be in a different time period," he said. "Their story will be outside of 10,000 B.C. That will be one of the fun things about Season 2, finding them in a world completely different from anything we've seen on the show so far."
Appelbaum also revealed that the mysterious tower that Rebecca Aldridge (Ming-Zhu Hii) led Scott to has a significant role in Season 2. "We are going to explore this building and go into it at a certain point and see what's inside. I think that's going to be one of the fun things, really opening up this world that they are in," he said. "We will find a lot of interesting things inside there, but I won't say who or what."
The first page of the second season's script was also shared with TV Line, revealing the title of the premiere episode is "Three Days Later." 
How can I watch La Brea?
Season 1 is currently available to stream on Peacock. Once Season 2 airs in fall 2022, new episodes will be available to stream the next day on Peacock.