NBC Insider Exclusive
Create a free profile to get unlimited access to exclusive show news, updates, and more!
Sign Up For Free to View
Watch Miles Teller's Incredible Top Gun-Inspired SNL Opening Monologue
"Tom Cruise did his own stunts, and I grew my own mustache."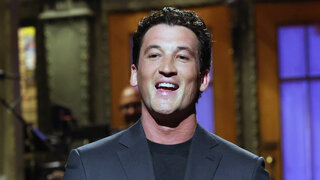 After a summer hiatus, Saturday Night Live is back in action, with Host Miles Teller leading the way for a hilarious 48th season. 
Outside of his hosting gig for the SNL Season 48 premiere, Teller has starred in numerous films, including War Dogs, Whiplash, and his most recent flick, Top Gun: Maverick. Teller was a hilarious feature within the revamped Season 48 cast, joined by second-time musical guest Kendrick Lamar. Teller's opening monologue set the tone for a hilarious night as he reflected on his experience filming Top Gun: Maverick and his background as a die-hard SNL fan. 
Watch: See Miles Teller's SNL Sketches From the Hilarious Season 48 Premiere
Teller made the audience cackle right out the gate by admitting he prepared for his SNL debut by asking his friends to tell him which celebrities he looked like the most. "I was thinking a young De Niro, maybe a Paul Newman," Teller explained. "They're like, 'No, Rachel Maddow.'" While Teller argued that he initially didn't see the similarities, the photo comparison proved that Maddow and Teller's resemblance is undeniable.
Teller continued by reflecting on his legendary experience filming the Top Gun reboot. "It's not every day you get a movie that's loved both by the military community and the gay community," Teller joked. The first-time SNL Host then revealed how much he enjoyed working with the Top Gun OG Tom Cruise. "He did his own stunts, and I grew my own mustache," Teller chided. 
Teller revealed that while he may have not done his own stunts, he insisted on actually playing piano and singing "Great Balls of Fire" live for the film. Teller joked that in preparation for the scene, he got music lessons from J.K. Simmons, cleverly referencing Teller and Simmons' thriller Whiplash.
The actor soared in his debut hosting gig, starring in numerous hilarious sketches throughout the night. He effortlessly set up Season 48 to be one of the funniest seasons yet, with SNL fans eager for more. 
To stay caught up, watch Saturday Night Live Saturdays at 11:30/10:30c on NBC and the next day on Peacock.