NBC Insider Exclusive
Create a free profile to get unlimited access to exclusive show news, updates, and more!
Sign Up For Free to View
Reba McEntire's Best Live Vocal Performances Will Remind You Why She's So Awesome
Check out her showcasing her signature soulful country voice.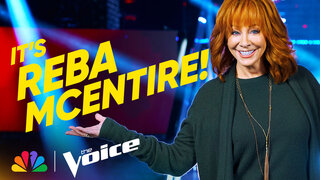 Any Artist on Season 24 of The Voice will be lucky to have country icon Reba McEntire as their Coach. Not only will she offer them valuable advice when it comes to connecting with viewers, she knows what she's doing with her technique as well. McEntire has a unique husky twang to her voice, and immerses herself into any song that she sings for a memorable listening experience.
RELATED: Reba McEntire Will Be Recognized on NBC's Inspiring America: The Inspiration List
Throughout her career, McEntire's live performances have proven that she knows how to control these skills in the right moments. Don't believe us? Check out some of Reba McEntire's best live vocal performances below.
1. Reba McEntire sang "Fancy" in the first Country Music Television Giants
When McEntire performed one of her biggest hits at the first-ever County Music Television Giants ceremony in 2006, there was no doubt that she would totally nail it. The curtains opened to reveal McEntire sashaying down the stage in a sequined red dress while the upbeat horns played. She sang with verses with sass and grit, and took the audience on a journey through the song's arc until it reached an epic conclusion.
2. Reba McEntire performed "Turn on the Radio" at the 2010 American Country Awards
In this totally badass performance, McEntire reminded us why she doesn't take flack from anybody. She sang the defiant lyrics without missing a beat, and swayed to the guitar-lick grooves while commanding the crowd. She brought the song to a perfect peak when her voice climbed up the scale during the bridge and she hit some impressive high yodeling notes.
3. Reba McEntire Singing "The Night the Lights Went Out in Georgia" at Outnumber Hunger Concert
McEntire proved that she's still got it with this performance of this enchanting tune at a fundraiser in 2015. She told the song's haunting story while using some vocal flips before launching into the chorus passionately, completely changing her tone. Her twang shined through during the bridge where she brought things down to a hushed whisper, and grew the final note with alluring intensity.
4. Reba McEntire's Performance of "Why Haven't I Heard From You" on CMT Crossroads with Kelly Clarkson
Two future Voice Coaches teamed up for this awesome performance back in 2007 during Season 6 of CMT Crossroads. The two talented ladies were unstoppable forces when they added a classic country blues tone to the tune. They switched back and forth on the lyrics, with McEntire using some balanced vibrato and channeling her deep register on the low notes. Meanwhile, Clarkson's slight rasp came out when she reached the higher parts. 
It was one of many duets the two sang on the show: They also collaborated on McEntire's hit "Fancy" and "Does He Love You?" that evening.
5. Reba McEntire Covered Carole King's "So Far Away" on Reba
McEntire's hit 2000s sitcom Reba often showcased McEntire's talents in the best way. During a Season 2 episode, her character decided to honor a late friend's memory by singing one of his favorite songs. In a moment of whim, she stood on a small stage at a nearly empty bar and used a soulful tone while connecting with the deep lyrics. When the performance was over, the live studio audience was clearly moved, as they cheered profusely.
6. Reba McEntire Singing "Take it Back" at The Save Our Stages Fest 
Taking place in the country capital — Nashville, Tennessee — McEntire showed off her stamina with this benefit concert for independent music venues during the height of COVID-19 in 2020. One highlight of the event was her fierce performance of her 1992 single "Take It Back", where she sang with steady confidence. The band's old-time sound complemented her energy perfectly, and her stage presence shined through even without a crowd.
7. Reba McEntire Covering "If I Fell" by The Beatles
McEntire took her usual country sound and went the classic rock route with this Beatles deep cut. During her 2000 performance at a "Stars Sing The Beatles" special, she stood on a minimalist stage and sang from the heart — no heavy belting or excessive vocal runs needed. She crooned the ballad gently and harmonized beautifully with the singular backup singer before the soothing, atmospheric guitar solo kicked in.