NBC Insider Exclusive
Create a free profile to get unlimited access to exclusive show news, updates, and more!
Sign Up For Free to View
Peacock's Dark Comedy Based on a True Story Returning for a Second Season
When we last saw Ava and Nathan Bartlett, portrayed by Kaley Cuoco and Chris Messina, the down-on-their-luck couple was in quite a precarious position.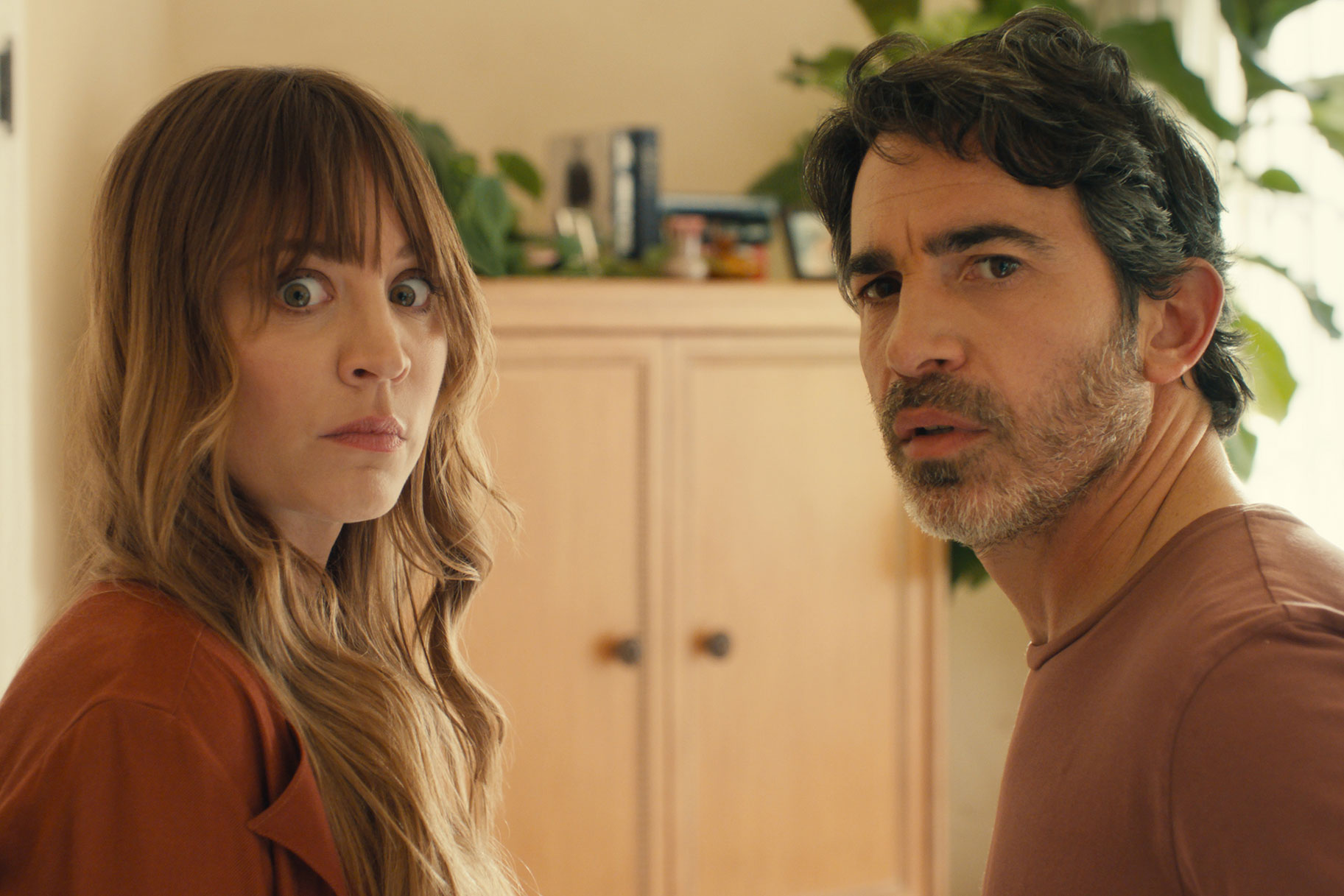 It looks like we haven't seen the last of the West Side Ripper. 
Peacock announced Thursday the dark comedy hit Based on a True Story is being renewed for a second season. 
The true crime satire, starring Kaley Cuoco and Chris Messina as bumbling couple Ava and Nathan Bartlett, pokes fun at the country's obsession with true crime, demonstrating the lengths the desperate couple is willing to go to just to earn their own spot in the sought-after crime market. 
What is Based on a True Story about?
The down-on-their-luck couple gets their chance to cash in when they accidentally discover the true identity of the West Side Ripper, a serial killer wreaking havoc in the Los Angeles area. 
Rather than turn the killer (who also happens to be their plumber) into police, Nathan and Ava decide to partner with him to make a one-of-a-kind podcast. Tom Bateman plays the charismatic killer Matt Pierce.  
But shortly after striking the deal, Ava and Nathan learn that Matt isn't just going to sit quietly on the sidelines and he soon takes over creative control of the podcast, insisting that listeners wanted "fresh" content, even though he had promised to put an end to his murderous ways.
By the end of the first season, Ava and Nathan find themselves in way over their heads, while Matt is busy planning for a killer second season of the podcast. 
RELATED: Meet the Cast of Peacock's Comedic Thriller Based on a True Story
The eight-part first season, led by creator, showrunner and executive producer Craig Rosenberg, received critical acclaim with The Los Angeles Times describing it as "fast-paced, sardonic and highly entertaining thriller" and Forbes calling it a "laugh-out-loud romp on the dark side." 
Jason Bateman, Michael Costigan and Cuoco herself also served as executive producers of the series' first season, while Alex Buono served as an executive producer and director. Co-executive producers were Roxie Rodriguez and Melissa Blake.
The first season cast also included Priscilla Quintana, Liana Liberato and Natalia Dyer.
RELATED: Where Was Based on a True Story Filmed? How to See the Real Landmarks from the Show
The final moments of the first season left Ava and Nathan in a rather precarious position and we can't wait to find out how these two plan to get out of that one.
Although no formal release date has been announced for the series second season, fans can reacquaint themselves with the Bartletts and re-live all the fun in the series first season, now streaming on Peacock.
The show is from UCP, a division of Universal Studio Group.