NBC Insider Exclusive
Create a free profile to get unlimited access to exclusive show news, updates, and more!
Sign Up For Free to View
Paris Hilton Is the Perfect Person to Get You Excited About the 2024 Paris Olympics
Who is a better spokesperson for the Paris Olympics than someone literally named Paris?
The 2024 Olympics will air on NBC and be held in Paris, France—something that Paris Hilton strongly approves of. The fashion icon and DJ appears in a new promo for the Olympics that dropped on January 15, and it's just incredible. 
For the video, titled "Eyes of the World on Paris," we see a woman in a sparkly dress and long, flow-y blonde hair walking slowly towards a window. "Next summer the eyes of the world will be on…" a soft voice narrates.
"Paris," Hilton then completes the sentence, turning around to reveal her face.
"Ohhhh…the other Paris," she says, correcting herself in a humorous moment.
For the outtakes of the promo shoot that dropped on January 14, 2023, we caught an inside glimpse of the beauty mogul revving up viewers for the upcoming Olympics.
"Paris, France? What the–they should change the name, it's confusing," she joked. "Wait, they named it after me?"
"Can you believe they named the city after me?" Hilton said to her puppy who was dressed in a hot pink knit sweater. 
That hasn't been the only time Paris Hilton has blessed us with her presence on NBC. For Miley Cyrus's New Year's Eve special, she joined both Cyrus and Sia onstage to sing a rendition of her 2006 hit "Stars Are Blind." Check out the performance, below.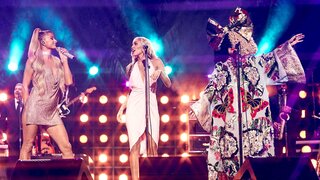 While Cyrus and Sia were singing their hearts out, Sia shouted out "Ready for this?" and Hilton came onstage in a surprise twist while wearing a bedazzled pink mini dress.
"Excuse me for feeling; this moment is critical. It might be me feeling; we could get physical," Hilton sang with enthusiasm.
Then, Cyrus and Hilton put their arms around each other while they swayed back and forth, singing the chorus. "Even though the gods are crazy, even though the stars are blind, if you show me real love, baby, I'll show you mine," they crooned in unison.
"Sing, Paris!" Cyrus exclaimed. "Let's see what love can do," Hilton cooed in response.
"It's Paris Hilton!" Sia shouted in excitement as the audience erupted in cheers.
"That's hot," Hilton then dropped her signature catch phrase when the song ended.