NBC Insider Exclusive
Create a free profile to get unlimited access to exclusive show news, updates, and more!
Sign Up For Free to View
Wow: Miley Cyrus, Paris Hilton, and Sia Sound Perfect Singing 'Stars Are Blind'
They showed us real love!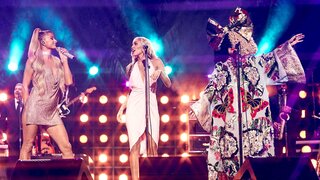 Miley Cyrus' New Year's Eve special on NBC was a massively fun night with some epic performances. One of the highlights was Cyrus' cover of Paris Hilton's 2006 hit "Stars Are Blind," where she brought out two very special guests onstage.
For the set, Cyrus had on a pink satin dress with a V-neckline. Horns played in the background as Cyrus started singing, "I don't mind spending some time just hanging here with you. 'Cause I don't find too many guys that treat me like you do."
Then, the chorus kicked in. "Even though the gods are crazy, even though the stars are blind, if you show me real love, baby, I'll show you mine," Cyrus crooned. 
She was later joined by Sia, who provided some gorgeous vocals of her own. "Got a heart and soul and body, let's see what this love can do, maybe I'm perfect for you," the two harmonized together in unison.
For the second verse, Sia took over. "I could be your confidante, just one of your girlfriends, but I know that's not what you want if tomorrow the world ends," she sang while wearing a patterned, loose-fitting robe and a massive red bow on her head.
"Why shouldn't we be with the one we really love? Now tell me, who have you been dreaming of?" she continued before the two hopped into the second chorus.
Then, in a surprise twist, Sia shouted out, "Ready for this?!" to the audience. And that's when it happened: The iconic Paris Hilton herself came onstage, microphone in hand. Unsurprisingly, the audience erupted in cheers.
"Excuse me for feeling; this moment is critical. It might be me feeling; we could get physical," Hilton sang energetically.
Then, Cyrus and Hilton put their arms around each other while they swayed back and forth, singing the chorus yet again.
"Sing, Paris!" Cyrus exclaimed as Hilton cooed, "Let's see what love can do." 
"It's Paris Hilton!" Sia shouted in excitement.
Of course, at the end, Hilton said her signature line: "That's hot." And, indeed, it was. 
Stream Miley's New Year's Eve Party on Peacock now.