NBC Insider Exclusive
Create a free profile to get unlimited access to exclusive show news, updates, and more!
Sign Up For Free to View
Nightbirde's Brother Reacts to the Mzansi Youth Choir's "Amazing" Tribute
He believes his late sister, who died in February 2022, would have been honored.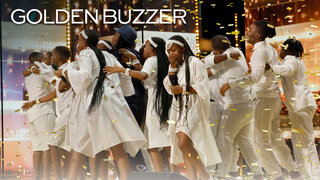 Jane "Nightbirde" Marczewski's legacy lived on in the best way during the Season 18 premiere of America's Got Talent with a performance that was appreciated by one of her very important family members. 
During the season premiere, South African choir Mzansi Youth Choir chose to sing a gorgeous arrangement of Nightbirde's original song "Its OK" for their initial audition. The touching performance not only brought Judge Simon Cowell to tears, but Nightbirde's brother Mitch Marczewski was highly moved as well. 
"Jane would be so proud. Simply amazing," he wrote on his Instagram story on May 30. "Thank you @mzansiyouthchoir and @agt for a beautiful tribute." 
In 2021, Nightbirde auditioned with her original song "Its OK", with the strong lyrics telling the story of her keeping her head up after being diagnosed with cancer. The amazing performance earned her a Golden Buzzer from Cowell, however, she eventually had to withdraw from the competition due to her declining health. Unfortunately, she died in February 2022 at the age of 31. 
The Mzansi Youth Choir chose to honor the inspirational late singer. The group did her original song justice with some perfectly placed harmonies and passionate vocals and choreography. 
When Cowell asked the group why they chose to sing "Its OK" specifically, choir member Zoe gave an eloquent answer. "When we heard Nightbirde singing the song on this stage, we were very inspired an touched by her story that we decided to record the song. To our surprise, she responded so beautifully, this song has been such a pillar of strength for us as a choir through difficult times. We just want to continue her legacy, and that's why we chose this song," she said. 
"This brought back so many memories for me," Cowell responded while tearing up. "I know how much this would have — would have meant to her," he continued. "Right until the end, she was so passionate about sharing her music, and this has gone all over the world, and you come back here with the most amazing tribute."
Unsurprisingly, The Mzansi Youth Choir ended up getting a Golden Buzzer for their performance. While the entire crowd gave the group a standing ovation, Host Terry Crews rushed onstage as he and the four Judges all pressed the button together.