NBC Insider Exclusive
Create a free profile to get unlimited access to exclusive show news, updates, and more!
Sign Up For Free to View
Revisiting Matthew Lillard's 5 Best Genre Roles in Honor Of Five Nights at Freddy's
From Scream to Scooby-Doo, Mr. Lillard's genre pedigree spans several decades.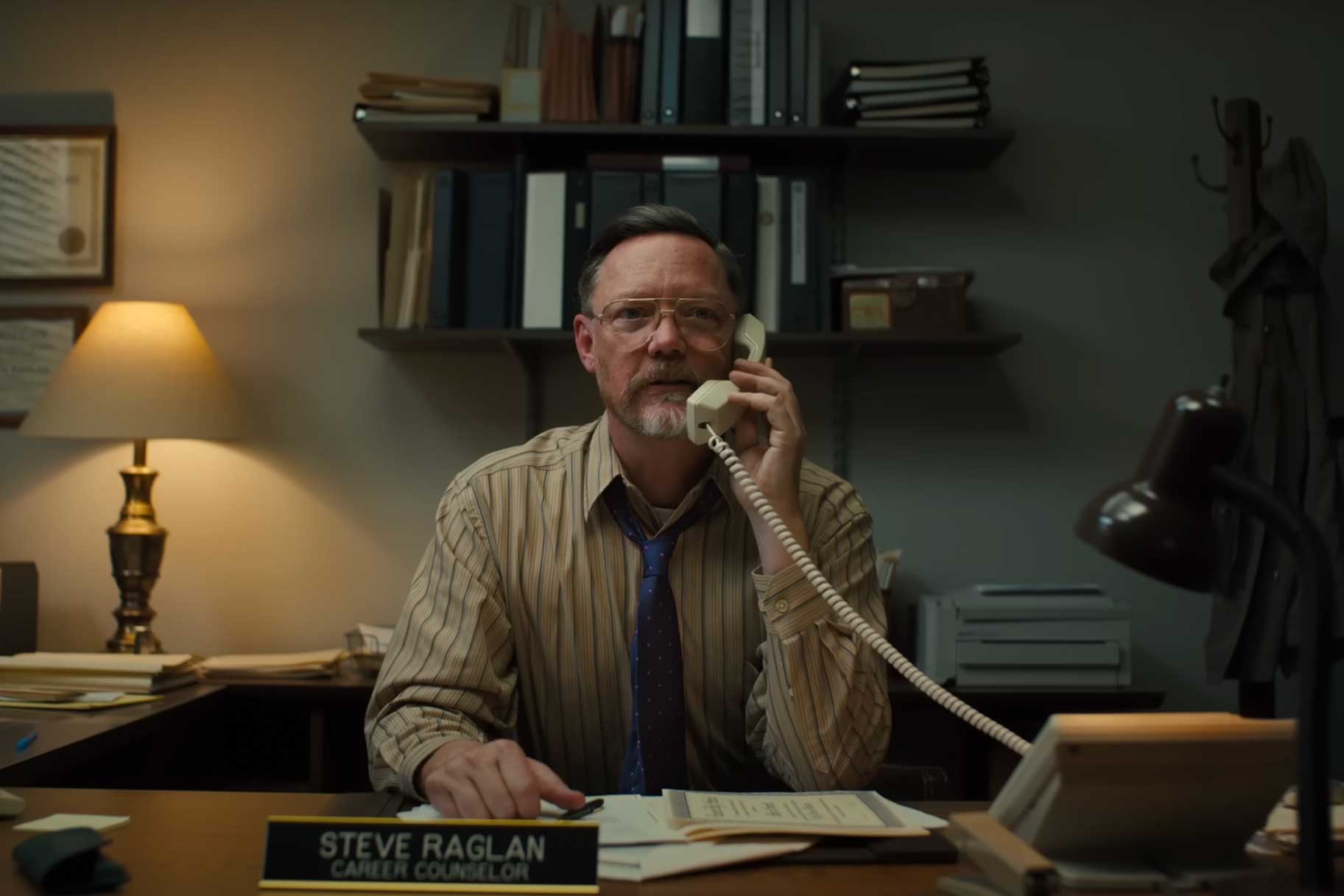 Later this month, actor Matthew Lillard will make his grand return to the horror genre as career advisor Steve Raglan...er, make that William Afton, in Universal Pictures and Blumhouse's long-awaited Five Nights at Freddy's movie (simultaneously hitting theaters and Peacock on Friday, October 27).
A veteran of the Scream and Scooby-Doo franchises, the actor is no stranger to things that go bump in the night. And what better way to harken back to his breakthrough role as slasher baddie Stu Macher than by playing a two-faced villain with malicious intent in Five Nights? There was no better choice!
RELATED: Five Nights at Freddy's Creators Talk Easter Eggs, Monster Design Secrets & More at NYCC
To celebrate the impeding release of Five Nights, here are five of Mr. Lillard's best genre roles!
Emmanuel Goldstein, aka "Cereal Killer" (Hackers) - 1995
While Lillard himself acknowledges that he went a little over-the-top with this role (one of his first major film credits), he also considers it a true highlight of the movie.
"I watch that performance and I'm like, 'Oh my God, what was I doing?' I was just chewing scenery left and right," the actor said in 2016. "I have this theory about acting that energy is electric to watch. And back then, it's unbridled energy. I think that worked in a way. You had these two lovers, the central characters, and there were these weird characters on the outside that were fun."
In addition, Lillard put a lot of tender love and care into the character, going so far as to come up with a backstory involving abusive parents, which explains why he's always carrying a toothbrush. "Because he never knew where he was gonna sleep."
Stu Macher (Scream) - 1996
Ah, yes. Stu Macher, unhinged accomplice to the OG Ghostface killer: Billy Loomis (Skeet Ulrich). Otherwise known as Stu Macher, the role that put Mr. Lillard on the Hollywood map. Similar to Hackers, Lillard found that a go-for-broke performance would serve his character well — at least in the final act.
"It's completely losing our minds! I mean, that whole last sequence is us on a 10 and chewing scenery like no one's business," he noted during an interview conducted last year. "The idea that Wes Craven sat behind the monitor and was like, This is great. We were crazy! If I ever saw somebody do that on a set, I'd be like, 'Dude, bring it down 58 percent.'"
Dennis Rafkin (13 Ghosts) - 2001
Critics didn't unanimously love 13 Ghosts, but Lillard's memorable psychic did garner praise from Variety: "Lillard is aptly quirky and whiny without being an insufferable pain." Still, it took a lot of work to bring Rafkin to life, with Lillard once noting: "The thing about this kind of film is that you're running all the time. You're terrified 15 hours a day," Lillard once said. "I mean, you're not digging ditches every day, but it is pretty exhausting."
Shaggy Rogers (Scooby-Doo) - 2002
Stu Macher may have put Lillard on the map, but live-action Shaggy Rogers cemented the actor's Hollywood legacy forevermore. The actor's pitch-perfect interpretation of Mystery Inc.'s resident stoner in Scooby-Doo and its 2004 sequel (Monsters Unleashed) led to the sweet gig of voicing the iconic character in the world of animation once Kasem retired in 2009.
Himself (Looney Tunes: Back in Action) - 2003
Despite the fact that his cameo only lasts for a handful of seconds, it's still an absolute treat to see Lillard interacting with the animated versions of Shaggy (the late great Casey Kasem) and Scooby (Frank Welker) — both of whom are quite displeased with how they were portrayed in live-action. A wonderfully zany addition to the hybrid film genre established by classics like Who Framed Roger Rabbit and Space Jam, Looney Tunes: Back in Action deserves some love.
BONUS: Steve Raglan/William Afton (Five Nights at Freddy's) - 2023
Yes, the movie hasn't been released — but we couldn't leave without mentioning the reason why this list exists in the first place. While the desk name plate in the trailer casts him as benign career counselor called Steve Raglan, Five Nights director Emma Tammi has confirmed that Lillard is actually playing William Afton: sinister co-founder of Freddy Fazbear's Pizza.
"What Matthew brings to all his characters is a wink and a twinkle in his eye," Tammi said during an interview with Empire for the magazine's October 2023 issue. "That makes these horrible, villainous acts and characters weirdly likable. A lot of the material is really dark, but if there isn't a lightness of spirit to some of that, it would fall flat. And Matthew perfectly embodies that."
Who else stars in the Five Nights at Freddy's movie?
The film also stars Josh Hutcherson (The Hunger Games franchise), Piper Rubio (Holly & Ivy), Elizabeth Lail (You, Mack & Rita), Kat Conner Sterling (We Have a Ghost, 9-1-1), Mary Stuart Masterson (Blindspot, Fried Green Tomatoes), and YouTube gamer Cory Kenshin co-star.
Click here for an official rundown of who plays whom!
How to get tickets to the Five Nights at Freddy's movie
Tickets are now on sale for the movie at vendors like Fandango and Atom.
According to a recent Fandango survey, which polled 2,000 ticket buyers, FNAF was voted the tenth most-anticipated title of the fall release calendar. It also landed in the third spot of most-anticipated horror offerings alongside A Haunting in Venice and The Exorcist: Believer.
How to watch the Five Nights at Freddy's movie on Peacock
The NBCUniversal platform currently offers two monthly subscription plans: Premium ($5.99 a month with ads) and Premium Plus ($11.99 a month with no ads and download access for certain titles). If you're a student, you can enjoy the Premium plan for just $1.99 for an entire year!
Want more theatrical action in the meantime? Head on over to Peacock for exclusive access to The Super Mario Bros. Movie, Asteroid City, Fast X, and Strays.