NBC Insider Exclusive
Create a free profile to get unlimited access to exclusive show news, updates, and more!
Sign Up For Free to View
Who Does Matthew Lillard Play In The Five Nights At Freddy's Movie?
The long-awaited video game adaptation hits theaters and Peacock Friday, October 27.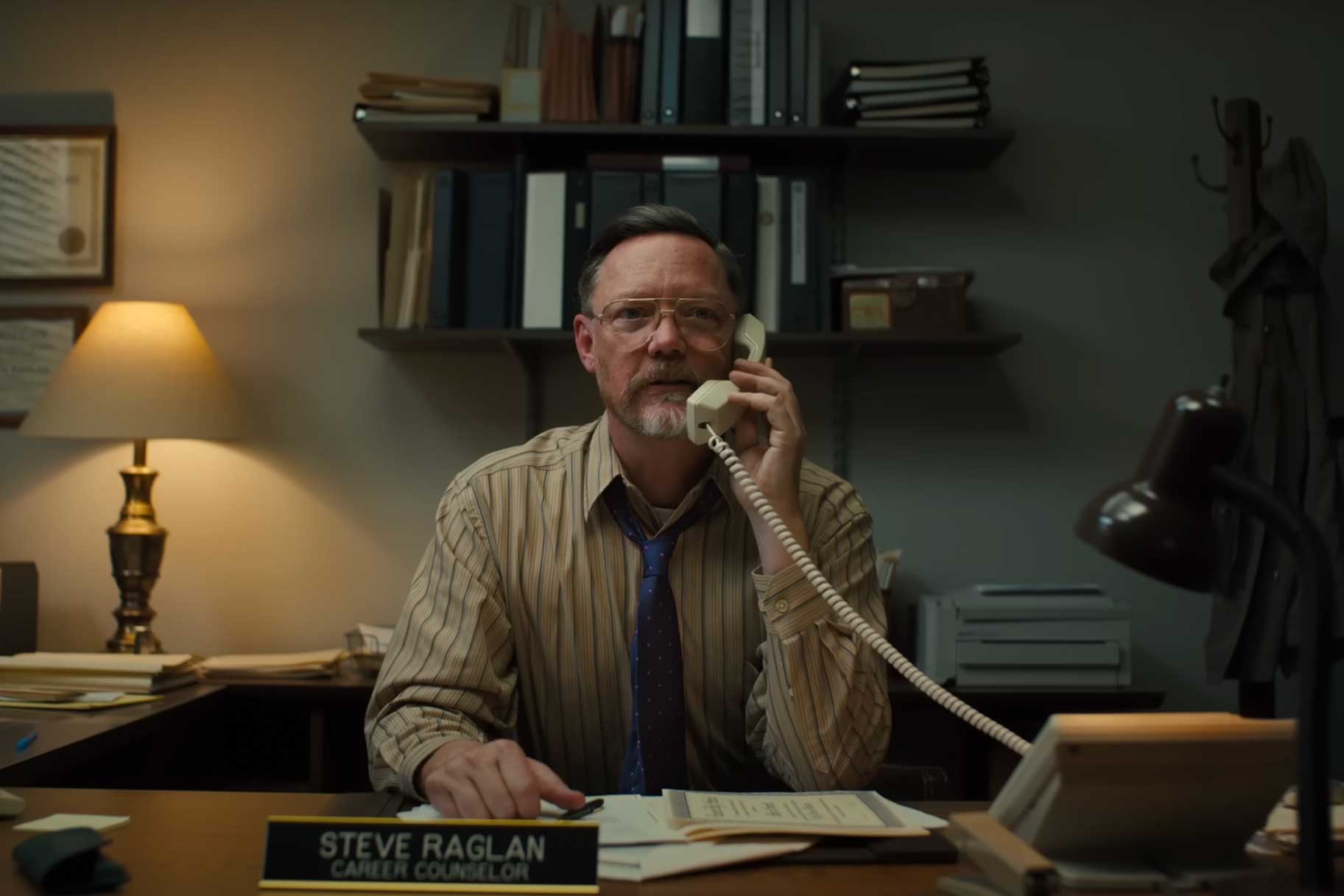 Keep an eye on that staticky surveillance footage! After nearly a decade of uncertain Hollywood development, Five Nights at Freddy's is ready to hit the big screen (and Peacock!), just in time for Halloween.
Based on the hit survival horror video game franchise created by Scott Cawthon, the film seeks to put a terrifying spin on the combination arcade/pizza parlors of yore like ShowBiz Pizza and Chuck E. Cheese. Those once-flourishing bastions of video games, greasy pepperoni cups, and unsettling animal mascots.
"[Chuck E. Cheese] is something that we were, as kids, completely fascinated with, and also a little scared of — which is such a sweet space to be living in for the film," Freddy's director Emma Tammi explained during an interview with Empire for the magazine's October 2023 issue (pick up a copy here).
RELATED: Jinkies! Scooby-Doo Meets Five Nights at Freddy's in This Viral & Delightfully Retro Fan Film
"We wanted to make the space feel at times claustrophobic," the filmmaker continued. "And other times a full-dimensional space that always felt like it had a dark corner or a hallway where sounds are coming from. We were thinking about how to adapt that amazing atmospheric space that the game had created so effectively and figure out ways to expand on it."
In this fictional tale, Freddy Fazbear's Pizza was once a thriving family-friendly business before it went bust in the '80s. That sudden transition from neighborhood institution to derelict eyesore was caused by the mysterious disappearance of several murdered children, whose restless spirits began to inhabit the restaurant's troupe of musical animatronics.
The script written by Cawthon, Tammi, and Seth Cuddeback stays true to the source material by laying the blame of those horrific acts of pedicide at the feet of Fazbear Entertainment co-founder William Afton, played in the long-awaited adaptation by a veteran of bloody slashers and supernatural mysteries.
Who does Matthew Lillard play in the Five Nights at Freddy's movie?
Scream and Scooby-Doo actor Matthew Lillard steps into the shoes of William Afton, although the trailers would have us believe he's just playing a mild-mannered career counselor in pretty obvious serial killer glasses by the name of Steve Raglan — most likely an alias for the remorseless killer in disguise.
Nevertheless, it is through Raglan's recommendation that the story's main character, Mike Schmidt (more on him below), ends up as a security guard fighting for his life at Freddy's. Moreover, Tammi's chat with Empire confirms Lillard is indeed occupying the status of central baddie.
"What Matthew brings to all his characters is a wink and a twinkle in his eye," Tammi said, explaining that she and the rest of the production team understood how crucial it was to find the right person to take on the fan favorite antagonist. "That makes these horrible, villainous acts and characters weirdly likable. A lot of the material is really dark, but if there isn't a lightness of spirit to some of that, it would fall flat. And Matthew perfectly embodies that."
Who else stars in the Five Nights at Freddy's movie?
The Hunger Games alum Josh Hutcherson headlines the film as Mike Schmidt, a man desperate for any stable source of income, who unwittingly accepts the job of nocturnal security guard at the haunted establishment from the disguised Afton. While Mike is a mainstay in the original games, his little sister, Abby (Piper Rubio) is not. Nevertheless, her addition to the Freddy's canon brings added emotional and dramatic heft to the story.
"They're both dealing with past traumas in different ways," Tammi teased. "Throughout the course of the movie, they rediscover each other."
Elizabeth Lail (You, Mack & Rita), Kat Conner Sterling (We Have a Ghost, 9-1-1), Mary Stuart Masterson (Blindspot, Fried Green Tomatoes), Matthew Lillard (Good Girls, Scream), and Cory Kenshin round out the cast.
What is the Five Nights at Freddy's movie rated?
Five Nights at Freddy's is officially rated PG-13 "for strong violent content, bloody images, and language."
Much of those bloody images will come courtesy of the aforementioned animatronics — Foxy, Bonnie, Chica, and Freddy Fazbear — all of whom were brought to life by the talented puppeteers over at Jim Henson's Creature Shop. Per Tammi, a lot of effort went into giving each killer robot "a real personality and a real soul."
RELATED: Five Nights at Freddy's Star Reveals Fazbear-Themed Wrap Gift Given to Cast
How to watch the Five Nights at Freddy's movie
Five Nights at Freddy's debuts in theaters and on Peacock Friday, October 27. The day-and-date release method was applied to previous Blumhouse/Universal offerings like Halloween Kills, Firestarter, and Halloween Ends.
Peacock currently offers two monthly subscription plans: Premium ($5.99 a month with ads) and Premium Plus ($11.99 a month with no ads and download access for certain titles). If you're a student, you can enjoy the Premium plan for just $1.99 for an entire year.
Want more theatrical action in the meantime? Head on over to Peacock for exclusive access to Renfield, The Super Mario Bros. Movie, and Asteroid City! Fast X joins the streaming party Friday, September 15.