NBC Insider Exclusive
Create a free profile to get unlimited access to exclusive show news, updates, and more!
Sign Up For Free to View
Mariska Hargitay Received an Honorary Doctorate and Dedicated it to Assault Survivors
A much deserved recognition, as she has stood up for victims of violence for years.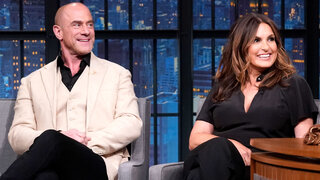 Mariska Hargitay's admirable contributions to violence survivors have been rightfully honored.
On June 4, the Law & Order: Special Victims Unit shared some emotional Instagram snapshots of her receiving an honorary doctorate from the John Jay College of Criminal Justice.
"I want to dedicate this Honorary Doctorate in Humane Letters from the John Jay College of Criminal Justice, to the survivors of sexual assault, domestic violence and child abuse that Joyful Heart is privileged to serve. To graduate means 'to move up to a more advanced level,'" Hargitay said in a caption. "Let us all continue graduating for the rest of our lives, and move up to more advanced levels of understanding, empathy and compassion—and perhaps most importantly, higher levels of the willingness and ability to LISTEN."
She continued, "Here's some wisdom from the great Judith Herman's new book, Truth and Repair:
'I propose that survivors of violence, who know in their bones the truths that many others would prefer not to know, can lead the way to a new understanding of justice. The first thing is to ask survivors what would make things right—or as right as possible—for them. This sounds like such a reasonable thing to do, but in practice, it is hardly ever done. Listening, therefore, turns out to be a radical act.'

For the much-needed growth and change needed in the criminal justice system, let's listen—truly, deeply, radically listen—to the real experts: the survivors. #SupportSurvivors #RadicallyListen."
Another post showed her grinning from ear to ear while in the crowd and giving a speech to the graduating class, and posing with the school's president and former US attorney general Eric Holder.
"Deepest thanks to the formidable Karol Mason @johnjaypres, President of @johnjaycollege for awarding me an Honorary Doctorate in Humane Letters! Deepest thanks as well for honoring me alongside the great @ericholder, Civil Rights Leader, former Attorney General, and—I'm so proud to say—my friend. AND thank you to newly-minted John Jay graduate Alexandra Dombroski, who nominated me for this honor! The day left me humbled, moved to tears—and inspired to live up this beautiful new title: Doctor of Humane Letters. Here's to a better, more compassionate, more humane world. Huge congratulations to all the graduates, and I'm so proud to an honorary member of your class! Oh, and what do you think: Captain Doctor Olivia Benson? Doctor Captain Olivia Benson? DocCapLiv? DCLIV? Let me know!! #ClassOf2023" she added sincerely. 
Congratulations, Mariska!