NBC Insider Exclusive
Create a free profile to get unlimited access to exclusive show news, updates, and more!
Sign Up For Free to View
What Riley and Josh's Season 2 1988 Reveal Means for La Brea's Universe
"Unexpectedly to them, by being in 1988, there are certain people there who are intrinsically tied to the story," showrunner David Appelbaum told NBC Insider.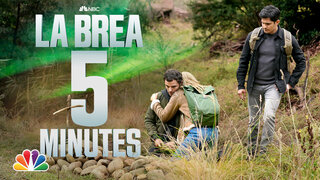 One of La Brea's biggest mysteries from last season was solved pretty early on in the Season 2 premiere: Riley (Victoria St. Clair) and Josh (Jack Martin) have traveled forward in time to 1988. But what does that mean for the duo—and even their loved ones back in 10,000 B.C.? As it turns out, this revelation is likely to lead to even more questions about the La Brea universe.
What happened to Riley and Josh in the La Brea Season 2 premiere?
They've arrived at the exact date and location in 1988 L.A. that Isaiah (a.k.a young Gavin) was sent to. However, they chose not to interfere with Isaiah's new life and instead set out on their own. 
They come across a house and make themselves at home while the owners are on vacation. They find a newspaper with a front-page headline saying a sinkhole opened up days before at the Hollywood sign. The duo set out to the scene in order to figure out if it will help them return to 10,000 B.C. 
"That is what the show is about, is how do we get back?" St. Clair told NBC Insider. "How do we get back to the people that we love? So it's really wonderful to get to see Josh and Riley independent from their own parents.And growing up together."
Jack Martin, who plays Josh, added, "Any time you travel to a new era, it introduces new questions about what you're gonna be able to do with that. And what you're definitely gonna be able to see is them exploring those questions, and how they can change things or what they can really make an impact with."
What does the year 1988 mean for the La Brea universe?
When asked how Josh and Riley's journey will affect everyone in the La Brea universe (regardless of their place in time) showrunner David Appelbaum revealed the two teens have a pretty significant role this season.
"Through some of the people they are going to meet in 1988, we're going to reveal a number of the secrets and the mysteries at the heart of why these sinkholes exist in the first place," Appelbaum told us. "And why they were created and how you might actually be able to stop them."
He continued, "They're gonna get sucked into this adventure. Unexpectedly to them, by being in 1988, there are certain people there who are intrinsically tied to the story. But we're gonna meet them in future episodes."
What else happened in the La Brea Season 2 premiere?
Back in 10,000 B.C. a lot went down:
Gavin, Izzy, and Ella are actually in L.A. 
After an eventful day in 10,000 B.C.—they survive a confrontation with a rhino and Izzy sustains an injury—the trio still believes they're in Seattle. And with Gavin and Ella no longer having visions of their past, it's even harder for them to find their loved ones. 
But by the end of the episode, they happen upon remnants of the Hollywood sign and see debris from 2022 L.A. landmarks in the distance. They quickly figure out they're actually in 10,000 B.C. L.A. and could be reunited with their loved ones sooner than they think. 
Whoever's in Aldrige's mysterious building wants her dead.
In typical Aldridge fashion, we're more confused than ever. After leading Scott to the the weirdly modern tower she built herself, she reveals to him that the people in the building—surprise, surprise—want her dead. But he must help her get there anyway because whatever's inside will save all their loved ones. They then find a secret underground passageway and begin their journey to...certain doom? I guess we'll have to see.
Silas reveals that only Aldridge can save Riley and Josh.
After being held captive for 24 hours, Silas (held at gunpoint by Sam, who's suffering from PTSD) confesses that only Aldridge can help the Sky People get Riley and Josh back from 1988. He then tells them about her tower in the middle of 10,000 B.C. Eve and Levi set out to find the building but after a series of unfortunate events get captured by a group of people who are definitely not the Tongva.
Are we even ready for Episode 2?
Watch La Brea on NBC Tuesdays at 9/8c and next day on Peacock.