NBC Insider Exclusive
Create a free profile to get unlimited access to exclusive show news, updates, and more!
Sign Up For Free to View
Kodi Lee and Light Balance Kids Did an Electrifying Joint All-Stars Finale Performance
"This is what it's all about," Judge Simon Cowell said. Watch AGT: All-Stars on NBC.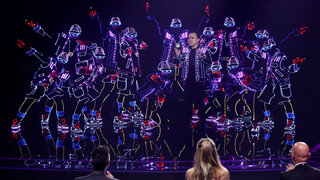 Kodi Lee and the Light Balance Kids joined forces during the America's Got Talent: All-Stars finale for an electrifying performance. The song of choice? "Wake Me Up" by Avicii. 
The performance started with Kodi Lee sitting by himself onstage playing the piano. "Feeling my way through the darkness, guided by a beating heart, I can't tell where the journey will end, but I know where to start," he sang in a slow tempo while blue lights flashed behind him.
Things then began to pick up in pace. "So wake me up when it's all over, when I'm wiser and I'm older, all this time I was finding myself, and I didn't know I was lost," he sang the chorus while the audience clapped to the rhythm with enthusiasm.
Then, the beat dropped and the Light Balance Kids appeared, dancing next to the Judges with an energetic routine. Lee repeated the chorus while the group continued to do some intricate footwork, their costumes flashing on and off in a cool optical illusion.
The crowd went wild, and the performance even got a standing ovation from all three Judges.
"Kodi, how was it performing with Light Balance Kids?" Host Terry Crews asked.
"It was so awesome!" Lee exclaimed.
"Simon, was it awesome for you?" Crews directed the attention to the Judges' panel.
"You know what? This is just so incredible. This it what it's all about. Seeing two talented Acts like that, I love that," Judge Simon Cowell responded.
The musical prodigy Kodi Lee won Season 14 of America's Got Talent in 2019. "I think I was the nervous one when we came to AGT, and he was an excited young man ready to show the world what he had," said his mom, Tina Lee. "I didn't even know what to expect... When he won, the first thing that popped in my mind was, 'The whole world just won.' I get to see him live a life like everybody else."
When Lee initially returned to the All-Stars stage, he performed a breathtaking rendition of "Biblical" by Calum Scott and earned yet another standing ovation from the Judges.
Light Balance Kids also competed in AGT Season 14, and ended up finishing in the Top 10. Who knew that the group and Lee would make such a good combo?
While Lee finished in the Top 11 for the All-Stars finale, the Light Balance Kids came in third place. The winning All-Stars title ultimately went to aerialist Aidan Bryant.