NBC Insider Exclusive
Create a free profile to get unlimited access to exclusive show news, updates, and more!
Sign Up For Free to View
These Are, Hands Down, Jack and Rebecca's Best Moments on This Is Us
These iconic moments between Jack and Rebecca are beyond romantic.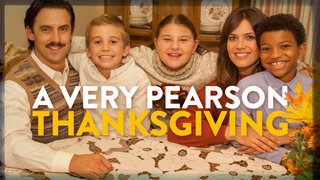 As This Is Us fans already know, Jack (Milo Ventimiglia) and Rebecca (Mandy Moore) Pearson are what relationship goals are made of. Although neither of them is perfect, the way they show up for each other through the highs and lows of life makes for some very romantic TV. Here are some of Jack and Rebecca's best moments on This Is Us. 
Season 1, Episode 1: "Pilot" 
From Episode 1, This Is Us knew how to pull on our heartstrings. The romantic chemistry between Moore and Ventimiglia was on fire, and the tender moment when Rebecca did her annual birthday dance for Jack really drove home the special connection these two shared. Plus, her water breaking mid-dance definitely raised the stakes. 
Season 1, Episode 2: "The Big Three"
Even in the wake of contentious moments, Jack and Rebecca proved time and time again that true love endures. Who could forget when Jack gave Rebecca the moon necklace after falling asleep outside her door post-fight? He agreed to stop drinking and professed his unwavering commitment to "be the man that made [her] happy." Rebecca went on to have several poignant moments with that very same necklace after Jack's death. 
Related: Mandy Moore and Jennifer Morrison Are Reuniting on a Show That's This Is Us' Opposite
Season 2, Episode 3: "The Car"
One of the most endearing aspects of Jack and Rebecca's relationship is their undying support for one another. When Rebecca had a brain tumor scare, Jack took her to his "favorite tree" to distract her from the stressful situation while they waited on the prognosis. However, the meaning of the tree took on a new significance when it was revealed that there was no special tree; he chose the tree at random because it was close to a phone booth, and he didn't want Rebecca to obsess over the stressful situation. After Jack's death, everything came full circle when Rebecca decided to spread some of his ashes at the base of it.
Season 3, Episode 1: "Nine Bucks"
Every great relationship starts with a memorable kiss, and the first time Jack and Rebecca locked lips was certainly a very special moment. As Jack drops her off after their date, he admits he couldn't afford to buy the umbrella to shield them from the rain because he only had "nine bucks" to spend and wanted to make sure he could treat her to games and snacks at the carnival. This admission leads to a deeper conversation about Jack's feelings and insecurities, and like a true ride-or-die, Rebecca isn't swayed by Jack's baggage, which gives their first kiss so much meaning. 
Season 3, Episode 18: "Her"
When Rebecca gets into a car accident and is hospitalized, Jack rushes to her side and delivers one of the most heartfelt Pearson family speeches ever. The sentimental patriarch admits that Rebecca is the family's "engine" and they would all be lost without her. Considering how much of the show is based around Jack's death, it's so touching to see Jack process what life would be like without Rebecca. 
Season 4, Episode 5: "Storybook Love" 
After Rebecca gets pregnant, and she and Jack move into their first home, she feels the need to consummate their new chapter with a memorable home-cooked meal. The only problem is she can't seem to "get it right," and after multiple mishaps, they end up eating pizza and having a great time. The energy of this episode is a beautiful reminder that some of life's most satisfying moments happen in between the "big plans."
Season 4, Episode 10: "Light and Shadows"
Rebecca's dad wasn't always the biggest Jack fan, but that didn't stop her from reuniting with her love after their breakup. When she shows up at the auto shop where he works, the star-crossed lovers share the sweetest moment. Remember this line: "You and I, we're going to have it all together. We're going to have the big moments and the small moments, and it's gonna be one for the ages." Yeah, us too. 
Watch every episode of This Is Us on NBC.