NBC Insider Exclusive
Create a free profile to get unlimited access to exclusive show news, updates, and more!
Sign Up For Free to View
Is a New Chicago P.D. Episode on Tonight? November 23, 2022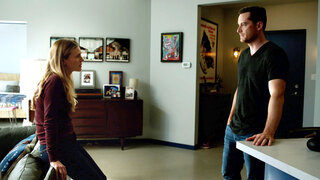 Chicago P.D. Season 10 has been action-packed, to say the least, and fans are itching to see what will happen next. Unfortunately, we'll have to wait a little bit for updates on our favorites from the Intelligence Unit. Chicago P.D. is going on a brief, two-week hiatus, but don't worry: It'll be back before you know it. Here's what you need to know: 
Is a new episode of Chicago P.D. on tonight? (November 23, 2022)
No, Chicago P.D. will not air a new episode on November 23, 2022. 
When will new episodes of Chicago P.D. return? 
The next new episode of Chicago P.D. (Season 10, Episode 9) will air Wednesday, December 7 at 10/9c on NBC and next day on Peacock. 
Can't wait until then? Get your fix by watching previous Chicago P.D. episodes now on  Peacock. 
So, what can viewers expect from the new P.D. episodes? Well, on the Burzek front, Patrick John Flueger (Ruzek) tells NBC Insider, "[Burgess] just moved in. She just kind of gave him some rope in an area that I think he's been hoping and praying for. And I think you're gonna be hard-pressed, unless it's a life or death situation, to see him push her too hard. He has a mad amount of respect for how hard she works at everything. I don't think you would ever in this moment see him get out in front of her or try and guide her, as much as just be there for the trust fall. Be there to say, 'Look, if you need anything, I'm here for you.' But also just to remind her as somebody that loves her dearly, whatever she may or may not be going through is OK. If she's dealing with it, that's OK."