NBC Insider Exclusive
Create a free profile to get unlimited access to exclusive show news, updates, and more!
Sign Up For Free to View
Why Five Nights at Freddy's is the Perfect Horror Movie For You and Your Kids, Too
Filmmakers share how they built on the video game's young "thriving community" to capture a broader audience.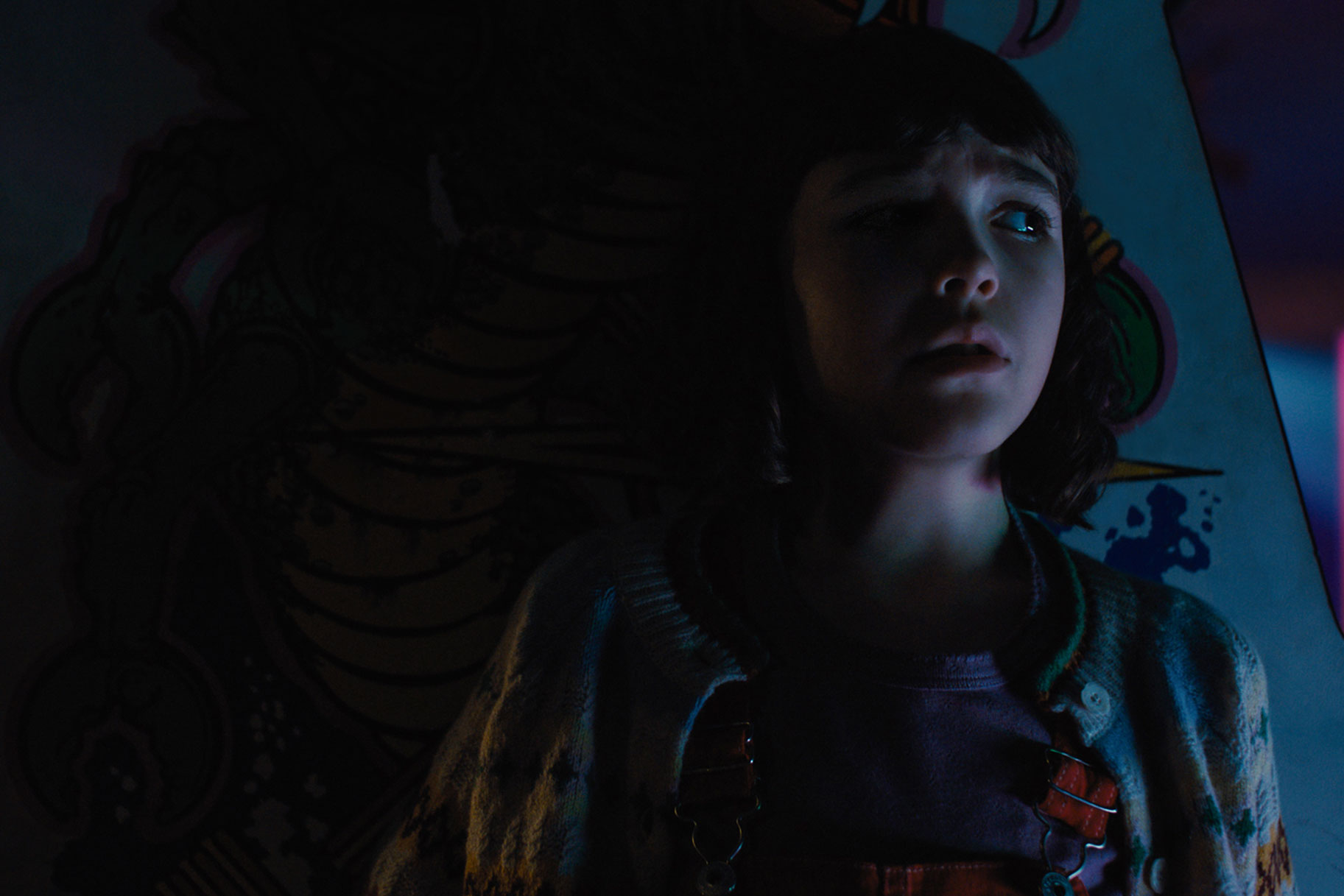 Looking at the Five Nights at Freddy's concept, it's easy to see the through-line from the wildly popular video game to the live-action film. Both take an inherently creepy children's venue — the dilapidated Freddy Fazbear's Pizzeria — and amp up the horror. They both focus on the murderous antics of animatronics that come to life at night. And yet, Five Nights at Freddy's is not your typical horror movie. It's also taking a kid-friendly concept and making it scary, and walking that fine line of a PG-13 rating was a priority for director Emma Tammi.
"There are so many younger fans of this franchise we really wanted this to be inclusive for them as well. Especially the opportunity to be able to go see this in a movie theater with friends is just such a powerful thing for a younger audience," she told NBC Insider.
Adapting the "FNAF-verse" (as she puts it) to the screen in such a precise way was a wild and bumpy ride that took eight years. But after multiple scripts and a director change, the filmmakers landed on a formula that worked. Close collaboration with Scott Cawthon, the game's creator who worked on the project until 2021, was critical to narrowing down the elements that brought FNAF to life.
"Scott was essential and gave us a clear blueprint of what he wanted this film to include both inside of the franchise and the new story elements. We knew we would have the most insider info on what the fan base would respond to," said Tammi. Blumhouse founder and producer Jason Blum agrees: "This is the version that takes his vision of what a movie was — which took time to develop — and fully realized it," he told us.
How Five Nights at Freddy's appeals to old and new fans
While the ethos and gamer cred was covered by Cawthon, director Tammi, known for the haunting and artful horror western The Wind, brought a fresh take and helped make FNAF's supernatural world accessible to a larger audience. "That was something I was really able to have a beat on being less familiar originally with the franchise. I saw elements of it that I knew I would want to go see as an audience member that I thought would be powerful in the movie," she said.
But it was the huge built-in audience that gave the filmmakers "a purpose for bringing this to life, a mandate if you will," said Tammi. The FNAF-verse is vast and wide, spanning comic books, graphic novels, backpacks, clothing, jewelry, Funko Pops, and board games — not to mention online chat rooms full of fans endlessly analyzing its famously cryptic and deep-seated lore. Then there's the video game series, which has thirteen versions and spinoffs. Everyone loves suspense and that "jump scare!" moment, which is why it resonates with many demographics.
"There are so many ways to access the storylines… so many access points to start tapping into the characters of [the animatronic characters] Bonnie, Chica, Freddy, Foxy," said Tammi. "Before kids are old enough to play the games, they're watching other people play on YouTube or talking about the characters. I think those are some of the ways in which it continues to be such a thriving community of fans. It seems like the conversation is never over, and that's probably also one of the keys."
How to watch Five Nights at Freddy's in theaters and on Peacock 
Five Nights at Freddy's debuts in theaters (tickets available at Fandango) and on Peacock Friday, October 27. The day-and-date release method was applied to previous Blumhouse/Universal offerings like Halloween Kills, Firestarter, and Halloween Ends.
Fans can sign up for Peacock Premium for $5.99 a month (or $59.99 for the year) and get 80,000-plus hours of the best in TV, movies and sports. 
Peacock Premium Plus, which includes no ads (limited exclusions), the ability to download select titles and watch offline, and your local NBC channel live, 24/7, is available for $11.99/month or $119.99/year.