NBC Insider Exclusive
Create a free profile to get unlimited access to exclusive show news, updates, and more!
Sign Up For Free to View
See All of Holly Forbes' Mind-Blowing Performances on The Voice
We've been obsessed since her four-chair turn audition.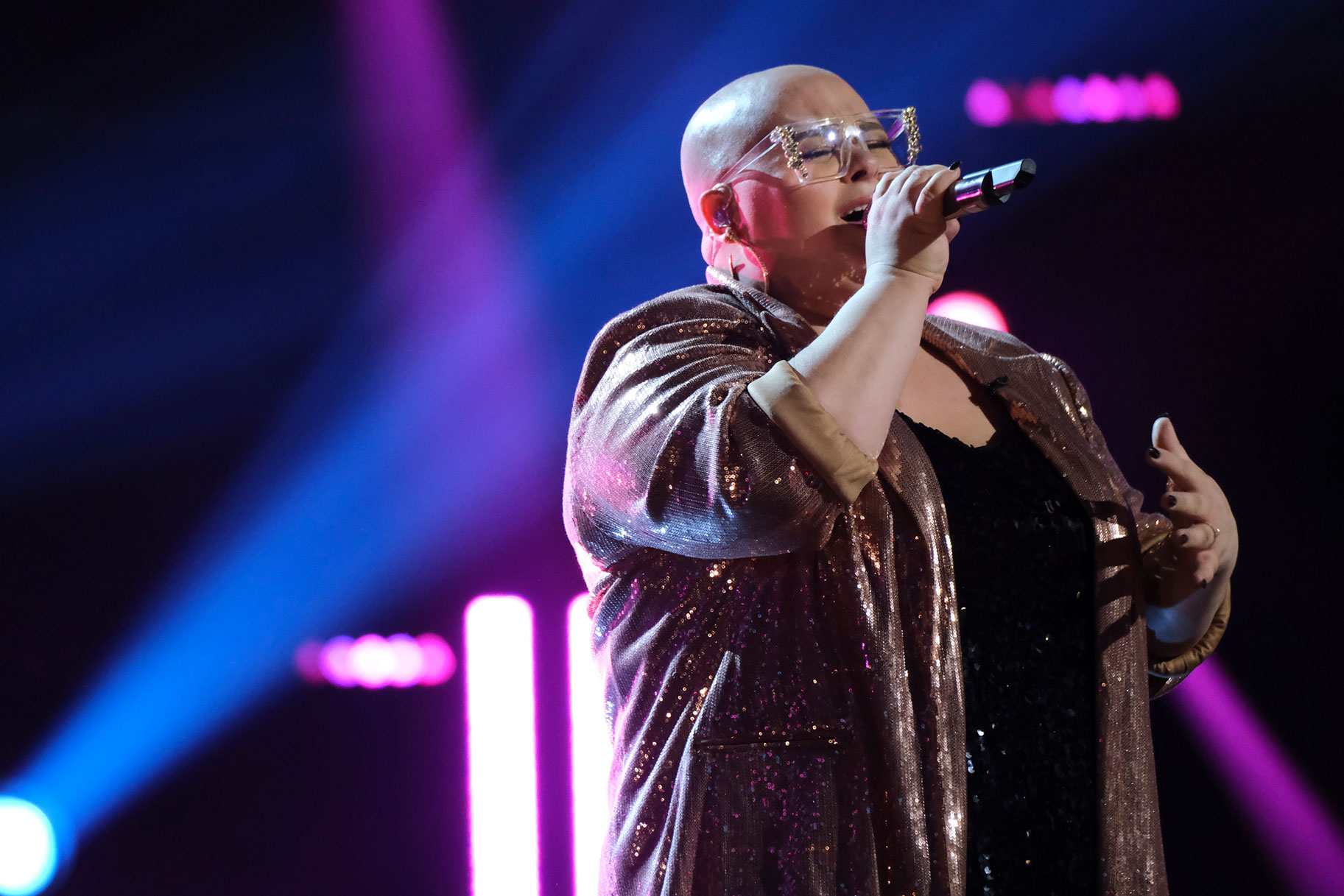 The Voice fans first met Holly Forbes during Season 21 auditions, and they were instantly touched after she opened up about her past.
"Around 11, I started having seizures," she said on the show. "The doctors put me on medication that made my hair brittle and patchy. I ended up losing my hair. For a kid, it's not easy being bald. At that time, I listened to music on repeat in my room, singing, and it just boosted my confidence."
Her talent proved to be just as powerful as her story. Forbes made it all the way to the top 10 under the guidance of her Coaches, Ariana Grande and Kelly Clarkson. Now, the Kentucky soul singer is set to release a new EP, Live From the Paramount, on April 15.
To celebrate, let's look back at her many mind-blowing performances on The Voice.
Holly Forbes' Four-Chair Turn Audition
For her first appearance on the Voice stage, Forbes performed a rendition of Elton John's "Rocket Man" that made every single Coach turn their chair—though Legend was blocked by Ariana Grande. Ultimately, Forbes went with #TeamKelly.
Holly Forbes' Battle Performance
In the second round of competition, Forbes battled it out with fellow Contestant Wyatt Michael, singing Bobby Hebb's "Sunny." Forbes' version stood out the most to Clarkson, and she was chosen to move on to the next week.
Holly Forbes' #TeamKelly Knockout Performance
Both Grande and John Legend attempted to steal Forbes after she lost this round to Girl Named Tom. Forbes ultimately chose #TeamAriana. 
Holly Forbes' Live Playoffs
With her debut on #TeamAriana, she broke out "Torn" by Natalie Imbruglia. 
Holly Forbes' Live Top 13 Performance
After advancing to the top 13, Forbes executed an emotional take on Garth Brooks' "The Dance." 
Holly Forbes' Top 11 Performance
She showed off her powerful vocals with Heart's "Alone," earning a standing ovation from both Grande and Clarkson.
Holly Forbes' Top 10 Performances
For her first chance at the top 8, Forbes took the stage with an energetic version of "Last Dance" by Donna Summer
She sang Clarkson's hit "Because of You" in the Instant Save round, but it wasn't quite enough to earn her a spot in the top 8, and she was eliminated. 
If you like The Voice, you'll love American Song Contest, NBC's new music competition show where Artists from 50 U.S. states, five territories, and Washington, D.C perform original songs—and viewers decide which one is the best. It airs every Monday at 8 p.m. ET on NBC.