NBC Insider Exclusive
Create a free profile to get unlimited access to exclusive show news, updates, and more!
Sign Up For Free to View
Heidi Klum Literally Swapped Faces With Husband Tom Kaulitz For Valentine's Day
The AGT: All-Stars Judge celebrated the romantic holiday with some funny filters.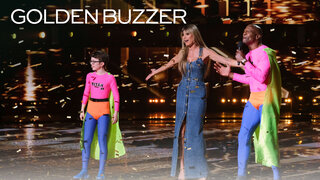 Heidi Klum and husband Tom Kaulitz celebrated Valentine's Day 2023 in a hilarious way: by face-swapping. 
Face-swapping via phone filter, of course. The supermodel and AGT: All-Stars Judge took to Instagram on Tuesday, February 14 and shared a selfie video of herself and Kaulitz playing with a face-swapping filter. Klum certainly looks hilarious with a little beard on her face, and as for Kaulitz? Well, let's say he can rock long hair any time he wants. 
This wasn't the only V-day-inspired Instagram post Klum shared to her grid. She also posted a selfie video of herself and Kaulitz in front of a mirror. They both looked chic, with Klum in a monochromatic red outfit and Kaulitz rocking a sleek black jacket. 
Klum also shared a hands photo from what looks like a Valentine's family dinner—minus daughter Leni Klum, who was no doubt too busy either living her best life in New York City or slaying the modeling game. (She really is her mom's mini-me!)
See these Instagram posts for yourself, below: 
During the 2021 MTV Movie & TV Awards: Unscripted, Klum opened up to ET about her relationship with Kaulitz.
"I mean, I found my match, finally, like I am very romantic and I do a lot of weird things, like I leave notes everywhere and I do a lot of things for him and it's beautiful when you get that back from your partner," she said. "And it's the first time I feel like I really have a partner to do everything with."
For her birthday in 2021, Kaulitz went above and beyond for Klum and surprised her with a piece of the Berlin Wall. 
"He did give me a piece of the Berlin Wall, it's gigantic, it was shipped on a boat with the crane put into our backyard," she said. "It's a beautiful art piece...I love art in general, and my husband knew that and since he is from East Berlin, you know, basically, this is from where these Berlin people were inside and they couldn't get out, so, you know, it means something and is very special to him." 
Klum is currently a Judge on AGT: All-Stars, the latest AGT show that sees fan-favorites returning to compete for a new title. We're this close to figuring out who the winner is. To find out, watch the show Mondays at 8/7c on NBC and next day on Peacock.