NBC Insider Exclusive
Create a free profile to get unlimited access to exclusive show news, updates, and more!
Sign Up For Free to View
You Have to Hear Chance the Rapper's Spot-On Louis Armstrong Singing Impression
He did the jazz legend justice!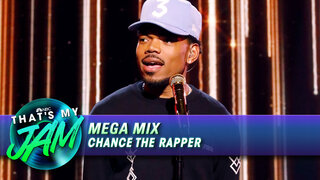 Newbie The Voice Coach Chance the Rapper is a great, unique vocalist all his own, but he also has a knack for spot-on impressions. More specifically, spot-on Louis Armstrong impressions. 
This March, Chance the Rapper appeared on That's My Jam and paid tribute to the one and only Louis Armstrong. On the show, Chance was given the fun yet challenging game of "Mega Mix." How it works? Host Jimmy Fallon spins a wheel, and Chance is given one word on the screen. The rapper then has to sing "a medley of different songs that have that word in the title." Doesn't sound easy, does it? 
When it was his time to shine, Chance was given the word "what," which meant he would have to sing a series of songs that all have the word "what" in the title. (No shortage of those!) Not only that, he was given only one beat to follow, and he'll have to find a way to make that flow work.
The first track that was thrown his way was "Turn Down for What" by DJ Snake and Lil Jon. He then quickly transitioned to Tina Turner's "What's Love Got to Do With It," which he sang with passion while impressively matching the lyrics to the instrumentals.
But then came the show-stopping moment. The next randomized song on the list was the jazz classic "What a Wonderful World" by Louis Armstrong. Chance jumped in and started singing in Armstrong's signature throaty tone without hesitation. 
"I see trees of green, red roses too. I see them bloom for me and you. And I think to myself, what a wonderful world," he crooned with gusto while gripping the microphone, prompting Fallon and the audience to roar with cheers and laughter. Mr. Armstrong sure would have been proud!
The next tunes on the list were "Whatta Man" by Salt-N-Pepa, and "What Do You Mean" by Justin Bieber. Chance knocked both out of the park. 
"That's how you do it! That's how you do it right there!" Fallon commented in amazement when the challenge was over. What can't this guy do?