NBC Insider Exclusive
Create a free profile to get unlimited access to exclusive show news, updates, and more!
Sign Up For Free to View
Why Burgess Finally Took That Major Step With Ruzek on Chicago P.D.
The co-parents just became a little bit closer.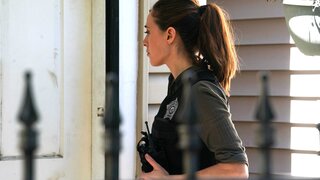 Thankfully for Chicago P.D. fans, September 28's episode ended on a hopeful note.
At the close of the Season 10's "The Real You," Burgess (Marina Squerciati) finally agreed to move in with Ruzek (Patrick John Flueger). Fans will remember that toward the end of last season, Ruzek revealed he bought his father's house for Burgess and their adopted daughter Makayla. At the time, their co-parenting relationship—and current lack of a romantic one—was so fragile that he even offered to have them live in the home without him. But Burgess clearly had a change of heart in the time since.
"I'm mostly doing it for Makayla, she won't stop yakking every night, and I can't sleep," Burgess joked, before getting serious. "I was wrong. You've proven yourself time and time again. You're stable with her. I believe in you, Adam. I do, and I'm sorry if it hasn't always felt that way."
Her decision came following a particularly stressful time for Ruzek. After winning a case where he was accused of illegally searching and planting a gun in a former perp's home, the defendant (Wilkin) escaped from his prison transport. The Intelligence Unit was charged with finding him, which they eventually did, but they were unable to prevent the fatal shooting of a 10-year-old girl. 
The case put a slight strain on Burzek and tested their trust, but the way Ruzek handled it may have impacted Burgess' decision. Now, Squerciati tells NBC Insider, the future of their relationship (and whether or not they finally get out of the friend zone) is all up to Burgess.
"I do feel like Burgess sort of has been leaning out for a little bit too long and at what point is a guy, or any woman in a relationship, gonna be like, 'Enough is enough?'" Squerciati said. "I think it's up to Burgess this season to lean in and show Ruzek she knows that he's changed, she appreciates that he's changed and who he is and how he's been a part of her and Makayla's life."
It looks like Burzek fans may have something to celebrate.
Watch Chicago P.D. on NBC Wednesdays at 10/9c and next day on Peacock.