NBC Insider Exclusive
Create a free profile to get unlimited access to exclusive show news, updates, and more!
Sign Up For Free to View
Why Fans Thought Platt Was Angry at Mouch in the Latest Chicago Fire
We were scared for a second!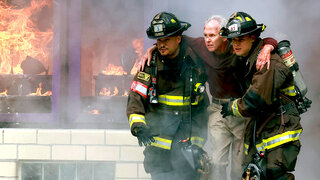 Hands down, one of the highlights from Chicago Fire Season 11, Episode 7 was Platt (Amy Morton's) surprise appearance. 
Granted, it was brief—but it was delightful. To recap, Mouch (Christian Stolte) purchases a motorcycle that someone who he helped during a fire didn't want anymore. The only problem? Mouch knows next to nothing about souping up a bike. Thankfully, though, Severide (Taylor Kinney) does, and with his help, Mouch transforms the damaged bike into a mean-looking machine. 
Which causes—so we think at first—a literally mean reaction from Mouch's wife (and Chicago P.D. icon), Platt. In a scene towards the end of the episode, Mouch is showing off the motorcycle to his friends at 51 when Platt emerges looking mad. Really mad!
"What's going on here?" Platt says, a smile on her face nowhere to be found. 
She looks at the bike in (what seems like) confusion and anger. "I don't even know what to say to you right now," Platt tells her hubby, who's starting to look a little scared himself. 
But in a lovely twist, we learn Platt isn't upset. In fact, she's thrilled about the bike and enthusiastically tells Mouch, "You look like Marlon Brando!" before kissing him. Then, she hops on the bike, and Mouch drives them off into the sunset—as if they're in a romance movie. 
"She's always been a hog fan! See you boys," Mouch says to his pals. And just like that, we have another iconic Mouch-Platt moment for the books. Plouch forever!
Watch Chicago Fire on NBC Wednesdays at 9/8c and next day on Peacock.