NBC Insider Exclusive
Create a free profile to get unlimited access to exclusive show news, updates, and more!
Sign Up For Free to View
Cassadee Pope Sounded Amazing Singing the National Anthem at the Stanley Cup Finals
She totally gave us chills!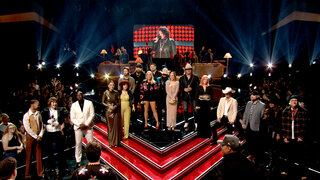 Cassadee Pope has the voice of an angel!
On June 11, The Voice Season 3 winner uploaded a video to her official TikTok page of herself singing the National Anthem at the 2023 Stanley Cup Finals. In the clip, her clear voice soared with ease while the fans in the stadium cheered with passion.
"Never gotten chills like that while singing the anthem. Panther pride is unmatched," Pope wrote on the video, rightfully proud of her performance. 
Originally the lead singer of the pop-punk band Hey Monday, Pope made an even bigger name for herself when she won The Voice in 2012 under Blake Shelton's team. Since then, her original music has taken a country-pop twist. This April, she released a song titled "People That I Love Leave" that has touchingly vulnerable lyrics. 
"This next project has an authenticity that I've never been able to tap into before now. Pop and rock music is such a staple in my creativity, so to fully return back to that genre feels special and like coming back home," Pope shared in an official press release. "I wanted to lead with a high energy, uptempo song. I love jumping around on stage and always have since Hey Monday. This song gives people a pretty clear picture of where I'm headed sonically and energetically." 
In a recent interview with HollywoodLife, Pope also opened up about the creative process behind writing the song. "I wanted to start with something uptempo, for sure, but I also wanted to start with a song that felt, in a way, digestible from what I've been doing to where I'm headed," she said. "I wanted to start with almost a bridge song that felt like a new genre but didn't feel too alienating to people that have followed me. It felt like a really nice way to keep all the fans engaged, and I'll probably take them a bit further with the next song, whenever that's going to come out."
She also explained why she chose to take her sound in a different direction. "Something that country has helped me with is telling a story in a song and keeping the listener engaged and understanding what you're talking about," she said. "I love pop-punk and I loved bands that had these really obscure lyrics where, half the time, I didn't know what they were talking about. But as a songwriter, I've always gravitated towards conversational lyrics. That's something country music does so well."