NBC Insider Exclusive
Create a free profile to get unlimited access to exclusive show news, updates, and more!
Sign Up For Free to View
Blake Shelton Said the Sweetest Thing When Asked About Missing Gwen on Tour
The Voice's power couple is spending time apart during Shelton's Back to the Honky Tonk Tour.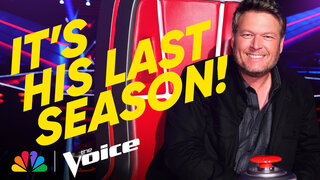 As Blake Shelton's final season of The Voice approaches, he's also been traveling the country for his Back to the Honky Tonk Tour. And while Shelton is having a blast performing tunes for his fans, he misses his wife, Gwen Stefani, while on the road.
Shelton and Stefani are The Voice's power couple, meeting as Coaches and later marrying in 2021. With the announcement of Shelton's departure from The Voice, the red chair sweethearts are looking forward to having more time together outside of work. Shelton's Back to the Honky Tonk Tour kicked off February 16, and in a new interview, he opened up about the one pitfall of the project: homesickness.
"It's terrible," Shelton told ET about missing the family. "Right now, they're having bad storms back in California, and I hate not being there. Not that anything bad is happening... but I know they're kind of freaked out, and it'd be nice to be home."
We love a concerned king! Shelton continued by explaining he purposefully cut down on the number of shows on tour to spend more time with family. "I don't do a lot of these. I think we're doing 18 of these shows this year," he said. "I try to limit it as much as I can, because the whole reason I'm even stepping away from The Voice is so I can just be there more, and that's what I'm gonna do."
Luckily, Shelton isn't struggling to find keepsakes to remind himself of home. While touring, the man was gifted a customized denim jacket with "Mr. Stefani" bejeweled on the back. Stefani was thrilled to see the gift and demanded Shelton bring it home. 
"I get a lot of gifts out on the road...That night I walked in and I had this jean jacket with 'Mr. Stefani' written on it. I sent a picture of it to Gwen and she said, 'Whatever you do, don't leave that there. You got to bring it home, I want that!'" 
Who can blame her? The jacket is both unique, stylish, and the perfect reminder of the love Shelton has waiting for him once the tour wraps. "I didn't even know you could hope for this kind of situation," Shelton reflects about his prolific career. "None of it was in my plan. I hoped to hear myself on the radio one day; that was my dream. And so I got it, and now everything else has just been gravy."
Watch Shelton's final season of The Voice when it premieres Monday, March 6 at 8/7c on NBC and the next day on Peacock.