NBC Insider Exclusive
Create a free profile to get unlimited access to exclusive show news, updates, and more!
Sign Up For Free to View
Blake Shelton Is Already Tired of Kelly Clarkson in New Voice Season 23 Preview
The playful rivalry between Blake and Kelly lives on! Catch Season 23 of The Voice this March.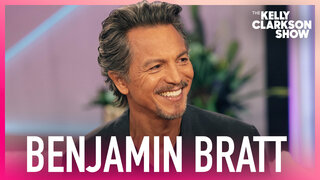 The Voice Season 23 is almost here. It also happens to be Blake Shelton's last round as Coach, but that doesn't mean he's going to ease up on the playful rivalry between himself and Kelly Clarkson.
"This is my last Season as Coach on The Voice. After 23 seasons…" Shelton explains in a new promo (watch, below). 
"He's so tired!" Clarkson interjected.
"I am tired of this," Shelton said jokingly while pointing at Clarkson, as she fell back in her chair laughing.
If Shelton's team takes home first place during Season 23, he will make The Voice history by being the only Coach to have a record-breaking 10 wins. However, fellow Coach Clarkson isn't going down without a fight.
"Will I go any easier on Blake knowing it's his last season? Do you know me at all? No!" Clarkson said in an interview with NBC.  "Do I hope secretly that he wins his last season? Maybe. But am I going to let him have it? No! I'm going to work for my Artists, and I hope they win!" 
Shelton announced his departure from The Voice in October 2022. "I've been wrestling with this for a while, and I've decided that it's time for me to step away from The Voice after Season 23," he said in an official statement. "This show has changed my life in every way for the better, and it will always feel like home to me. It's been a hell of a ride over these 12 years of chair turns, and I want to thank everyone at The Voice from NBC, every producer, the writers, musicians, crew and catering people; you are the best."
"It takes a lot of work, passion, and adult beverages (Ha!) to pull off a live show twice a week. I've made lifelong bonds with Carson and every single one my fellow Coaches over the years, including my wife Gwen Stefani! I have to give a huge shoutout to the singers–the 'Voices,' who come on this stage season after season and amaze us with their talent, and a special thanks to those who chose me to be their Coach. Lastly, it's about y'all, the fans, who watch and support these Artists, us Coaches, and everyone at The Voice who are chasing their dreams. It would not happen without you!" he added.
Watch The Voice on Peacock and NBC. Season 23 premieres March 6.