NBC Insider Exclusive
Create a free profile to get unlimited access to exclusive show news, updates, and more!
Sign Up For Free to View
Watch Babyface Perform 'Every Little Step' With Avery Dixon on AGT: All-Stars
The two are truly masters at their craft! Watch America's Got Talent: All-Stars on NBC.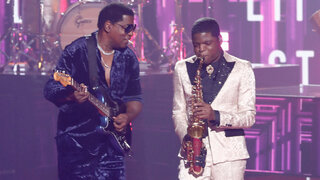 Musical genius overload! The legendary record producer Babyface took the stage with saxophonist Avery Dixon for the America's Got Talent: All-Stars Finale for a phenomenal cover of "Every Little Step" by Bobby Brown.
Dixon started out the song by playing a smooth, soulful melody on his saxophone. When he hit a sustained high note, the stage erupted in fireworks.
Babyface soon joined in, strumming his guitar. "I can't sleep at night, I toss and turn, listenin' for the telephone, but when I get your call I'm all choked up, can't believe you called my home," he sang while rocking some seriously cool shades. Meanwhile, Dixon grooved to the rhythm next to him.
"And as a matter of fact, it blows my mind you would even talk to me, because a girl like you is a dream come true; a real life fantasy," Babyface continued. 
The crowd went wild when Babyface launched into the pre-chorus. "No matter what your friends try to tell ya, we were made to fall in love, and we will be together, any kind of weather; it's like that, it's like that," he sang energetically.
Dixon then joined back in for the chorus, playing some seamless notes effortlessly. "Every little step I take, you will be there, every little step I make, we'll be together," Babyface sang before Dixon hit some impressively intricate notes in rapid succession.
Then, it was time for the epic saxophone solo. Dixon blew everyone away with his unique interpretation of the melody, staying true to what makes the song great while totally making it his own.
"No matter what your friends try to tell ya, we were made to fall in love," Babyface continued while Dixon used his saxophone to play off his vocals during the pauses.
When solo number two hit, Dixon made his saxophone its own character while he played more brassy high notes, combining expert technique and original personality. The song then ended in one bold, defiant beat, with more fireworks consuming the stage as the two musicians stood next to each other.
"I am so proud of Avery," Host Terry Crews praised. "You are a giant now, man!"
This amazing performance helped earn Avery Dixon the runner-up title on Season 1 of America's Got Talent: All-Stars.