NBC Insider Exclusive
Create a free profile to get unlimited access to exclusive show news, updates, and more!
Sign Up For Free to View
Aneeshwar Kunchala's Reaction to Aidan McCann's Latest Magic Trick Is So Adorable
The two young America's Got Talent: All-Stars Contestants appear to be great friends!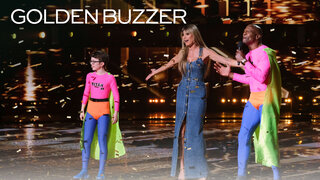 Two AGT: All-Stars Contestants bonded in the best way!
On February 11, magician Aidan McCann posted an adorable video of himself performing a magic trick in front of fellow Contestant Aneeshwar Kunchala. In the clip, Kunchala exclaims "abracadabra!" while McCann shows his empty hands. Kunchala then repeatedly says, "What?!" while jumping on a couch. In the next segment, a pen magically appears in McCann's hands, causing Kunchala to jump up and down while clapping in excitement. See the cute exchange here. 
Who is Aneeshwar Kunchala?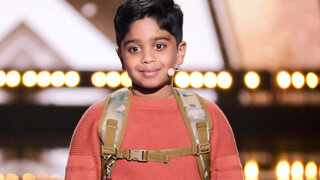 Aneeshwar Kunchala is a 7-year-old wildlife conservationist. He originally competed on Britain's Got Talent, where he made it to the finals. "You're a very special young man," Judge Simon Cowell told Kunchala during his Audition.
"I want to win to inspire kids to save the planet," Kunchala said when he made his debut on AGT: All-Stars.
During his All-Stars Audition, Kunchala delivered a motivational poem about saving the planet while nature videos played behind him on the stage.
"You are probably one of the most inspirational young men I've ever seen," Howie Mandel gushed. "Because not only is what you do adorable, but do you realize how important it is for you to spread this message and for us to give you this platform?"
"Everything you just said is so moving," Heidi Klum added. "You are so beautiful inside and out. We need more people like you. You are incredible."
"Your message travels so well," Cowell chimed in. "And you gotta remember: Everything Aneeshwar said, he's written himself. I'm so proud of you."
Who is Aidan McCann?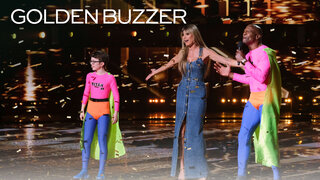 Thirteen-year-old magician Aidan McCann first appeared on Britain's Got Talent in 2020 at the age of 11 before traveling to America to compete in AGT: All-Stars.
"When I was watching the magicians on America's Got Talent as a kid, that made me want to kind of show my magic to a bigger audience," he said. "So I went to Britain's Got Talent when I was 11 years old... My biggest dream is to have a star on the Hollywood Walk of Fame."
McCann's All-Stars Audition was so mind-blowing that Heidi Klum granted him a Golden Buzzer! "I don't know how you did it," she said. "You are incredible. I love the magic, but really it is you who is the magic; you really are. I think you're such a little star. You sparkled."
Watch AGT: All-Stars Mondays at 8/7c on NBC and next day on Peacock.