NBC Insider Exclusive
Create a free profile to get unlimited access to exclusive show news, updates, and more!
Sign Up For Free to View
The American Ninja Warrior Hosts Reveal What to Expect From Season 14
Akbar Gbajabiamila says two new obstacles are coming to the Ninja courses.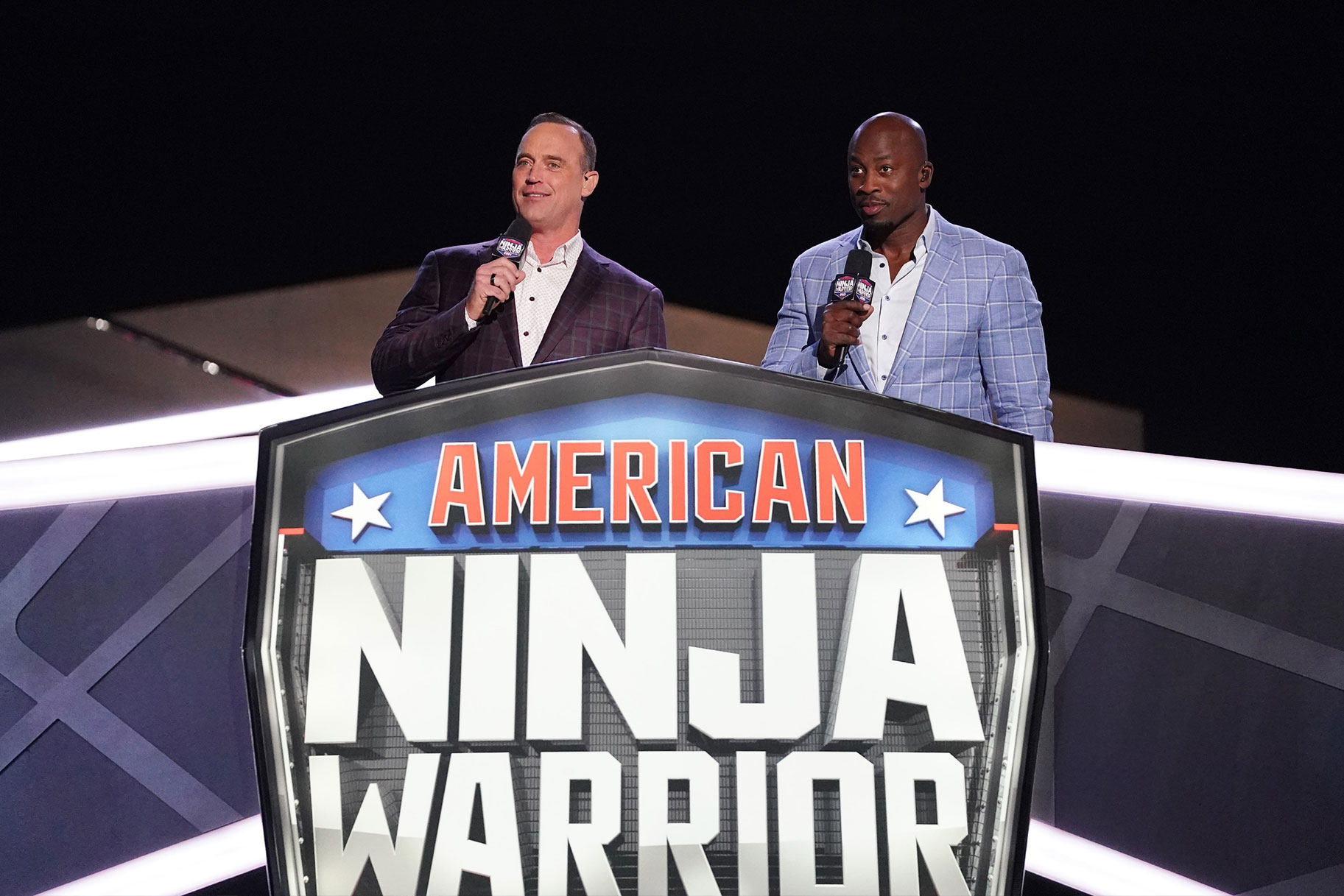 June 6 marks the highly-anticipated return of NBC's American Ninja Warrior, as fans see new (and familiar) faces compete for the title of Champion and the $1 million grand prize.
Lucky for us, Matt Iseman, Akbar Gbajabiamila, and Zuri Hall are all back to host the competition during Season 14. And the live audience is back, too, which was a staple pre-COVID.
"There is nothing you can do to manufacture the loss of fans," Gbajabiamila told TV Insider. "To have them back with Matt's and my commentary, we needed the audience to validate what we were seeing. We host, but we are also cheering these athletes on as they are doing their thing... The athletes being back in their normal environment, to me, made for a better Season 14."
To help celebrate ANW's return, we're taking a closer look at our beloved Hosts, and the details they've revealed about the new season.
Matt Iseman
The Denver native—who opened up about his hometown in a recent Kelly Clarkson Show appearance—has been a part of ANW since Season 2, making him the show's longest-serving Host. 
"One of the great things is we never know what to expect," Iseman told TV Insider about the series. "What's great is seeing the growth, seeing these athletes mature, and seeing [Ninja Warrior vet] David Campbell still being competitive now that he's literally almost three times older than our youngest competitors."
And though he graduated from Princeton University and the Columbia University Vagelos College of Physicians and Surgeons, Iseman quit his career as a physician to pursue his comedy dreams. When he's not hosting ANW, he still regularly performs his stand-up routines across the country. A couple other fun facts about Iseman? He won Season 8 of The New Celebrity Apprentice and made a surprise appearance on an episode of RuPaul's Secret Celebrity Drag Race, performing as Bette Bordeaux and winning the show with a three-way tie.
Akbar Gbajabiamila
The former NFL player, who's hosted ANW since Season 5, recently opened up to TV Insider about two brand new course obstacles introduced to the Ninjas in Season 14.
"[It's] called Carnival, which is amazing," he said. "The premise is you get the ball in the shoot and win a prize. That prize is a teddy bear, but the surprise/prize is which handle you get to dismount from this obstacle. It decides how hard or easy the transfer in the course becomes. We take things people can relate to, like going to a carnival, and turn them into an obstacle. We've also had Final Frontier inspired by all we've seen with rocket launches. Our show is going to a new frontier. We've seen Ninjas in a different stratosphere on the course; we're watching these athletes try to defy gravity."
Gbajabiamila also co-hosts The Talk, has a recurring role on The Bold and the Beautiful, and wrote the 2019 book Everyone Can Be a Ninja.
Zuri Hall
Hall joined ANW in Season 11. In addition to her sideline reporter gig on the series, NBC viewers likely recognize Hall for her role as a correspondent on Access Hollywood. The Ohio native also hosts her own podcast, Hot Happy Mess, which you can stream wherever you get your podcasts.
Beginning June 6, American Ninja Warrior airs Monday nights at 8 p.m. ET on NBC.