NBC Insider Exclusive
Create a free profile to get unlimited access to exclusive show news, updates, and more!
Sign Up For Free to View
The American Auto Season 2 Premiere Was So Worth the Wait
We missed our favorite car company so much!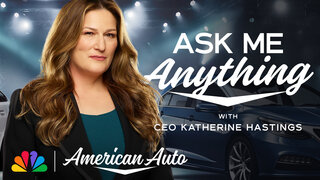 The American Auto Season 2 premiere didn't waste any time diving back into the hilarious antics at Payne Motors. Fans who missed the stellar ensemble, led by SNL legend Ana Gasteyer (as Katherine Hastings), are in for a treat as the workplace comedy opens at the start of a PR nightmare that's on the verge of spiraling hysterically out of control.
The team at Payne is forced to bring on crisis manager Ian Osofsky after news breaks that one of their cars models has a faulty transmission pawl.
"Got some good news, we stress-tested [the pawls], and even though they weren't technically rated for the weight of the Hydra, they were able to hold it," explains product designer Cyrus (played by Michael Benjamin Washington) proudly in between bites of his burrito.
Initially, the team floats the idea of recalling the affected cars to avoid escalating the scandal, but in true American Auto fashion, they instead decide to cover up their knowledge of the defective parts. Needless to say, they don't get away with it. 
Head of communications Sadie (played by Harriet Dyer) struggles to make it through a botched press conference, as she tells blatant lies to the press and hopes for the best. 
"Guys, there's no story here," says Sadie to the reporters. "A story is when something happens, and literally, nothing has happened."
On cue, the scandal goes from bad to worse as a family on a camping trip falls victim to the Hydra's faulty braking system when their car rolls backward down a hill, causing a wildfire that rages out of control for weeks. 
As the credibility of the Payne Motor team continues to plummet, the crisis manager steps in...and doesn't mind getting his hands dirty in the hopes of fixing the situation.
The stress of the ordeal, though, leads the team to become unraveled with everything from hives to excessive constipation to uncontrollable snacking. 
It seems the only solution is for Katherine to step down as CEO when the board calls a meeting to address the chaos. However, when she discovers the board plans to terminate most of her team along with herself, in a moment of commendable bravery, she sacrifices her generous severance package for the chance to make things right. 
To find out what happens next, watch American Auto Tuesdays at 8:30/7:30c on NBC and next day on Peacock.