NBC Insider Exclusive
Create a free profile to get unlimited access to exclusive show news, updates, and more!
Sign Up For Free to View
Inside Peter Antoniou's Mind-Blowing Psychic Act That Had the Judges Debating
He was inspired by his aunt's tea parties!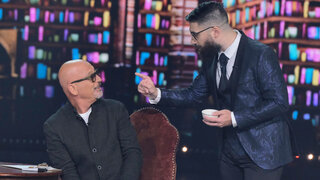 America's Got Talent has shocked audiences with some mind-blowing psychics and magicians over the years—including Season 16 Contestant Peter Antoniou, who decided to make a comeback on AGT: All-Stars. 
For his All-Stars performance, Antoniou did a psychic set inspired by his aunt's tea parties. He brought on Host Terry Crews, Judge Howie Mandel, and a member of the audience to join him.
He first asked Mandel to write down a random question on a piece of paper to show the audience. The question read, "Will my son Alex find someone to marry soon?"
Per Antoniou's instructions, Mandel tore the paper up and threw it in a teapot. The question brewed in the tea, and Antoniou promptly drank the beverage to try to find out what the question was. Immediately, Antoniou gathered that the question was about Mandel's family (and more specifically, his son Alex). 
"And this is something you tease him about a lot because you want to know whether he's going to find someone to marry, don't you?" Antoniou guessed with confidence, hitting the nail on the head and causing the audience to gasp.
Next, Antoniou asked the audience member to choose a question she knows the answer to in order for him to prove his psychic abilities. She put her finger in the tea and thought about the question: "What is the name of my future child?" She thought about the answer, Summer, but didn't say it out loud. Antoniou then wrote the name Summer down on a board and showed the audience, shocking everyone.
When it was time for Crews' turn, he was asked to hold the cup of tea between his two hands while Antoniou reached around. Crews' question was, "What are the size of my shoes?" The answer is size 14, and when Antoniou poured the tea out, the remaining leaves said…size 14!
"You're kidding me!" Heidi Klum exclaimed.
"What he did is like a superpower," added Mandel.
However, Simon Cowell gave Antoniou a red X, telling the psychic, "It's not always about the finish. It's about getting there. And how you got there wasn't very good, in my opinion, because it takes too long. I think it's your lack of showmanship."
Klum disagreed, though, telling Antoniou that he had "great showmanship." Whose side are you on? 
Watch AGT: All-Stars Mondays at 8/7c on NBC and next day on Peacock.