NBC Insider Exclusive
Create a free profile to get unlimited access to exclusive show news, updates, and more!
Sign Up For Free to View
See Why Singer Amanda Mammana Made the AGT Judges Cry During Her Audition
You'll probably need a tissue, too.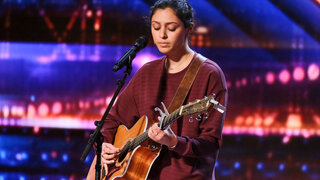 It's not often that an America's Got Talent Audition garners emotion from everyone on the judging panel. It takes a special talent to get Simon Cowell, Heidi Klum, Howie Mandel, and Sofia Vergara to all shed some tears. But Connecticut native Amanda Mammana did just that during her powerful Audition, which was released early ahead of July 19th's episode.
During her introduction, Mammana opened up about living with a speech impediment that makes communicating challenging. Mammana also revealed that when she sings, her impediment goes away. 
"As you can probably tell, I have a bit of a speech impediment," Mammana explained to the Judges. "It was definitely something that caused me to shy away and to hide, but I found that I don't stutter when I sing."
Mammana decided to perform an original song for her Audition, which tends to go well with the Judges. 
"I will be singing a song that I wrote, and it's just about some hard times, and if I could go back and change those things, I wouldn't because they made me, me," she said.
Her performance blew the Judges away. They were so impressed, in fact, that she received a unanimous standing ovation and praise for her stunning talent. (She earned four "yeses," naturally.) 
Mammana also got emotional in response to the overwhelmingly positive feedback from the Judges and studio audience. We can't wait to see her take the AGT stage again soon.