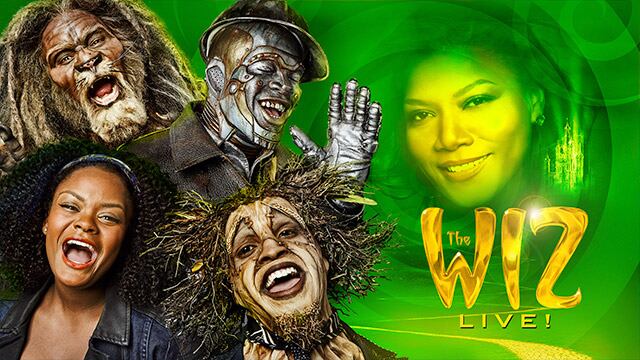 About the Show
Special, Live Events and Specials
About the Show
NBC embarks on its latest musical holiday tradition: a three-hour LIVE event production of the groundbreaking Broadway show that brought Oz to life in a funky sing-along journey down the yellow brick road.
Winner of seven Tony Awards, including Best Musical, the original massive Broadway hit spawned a feature film starring Diana Ross and Michael Jackson. Now, a Tony-winning creative team, the imaginative Cirque du Soleil Theatrical and a diverse cast of showstoppers create an eye-popping new take unlike anything ever seen.
From Executive Producers Craig Zadan and Neil Meron comes an adventure of stunning spectacle and toe-tapping music.
NBC's The Wiz Live! Offers an Inclusive Viewing Experience for People Who are Blind or Visually Impaired
On December 3 at 8:00 p.m. ET, NBC aired The Wiz Live! For the first time in U.S. network television history, a live entertainment program was accessible to viewers with visual disabilities with audio video description - narration that describes what's happening on the screen.
The described broadcast of The Wiz Live! was a pilot program available in every local NBC market where SAP (Second Audio Program) audio feeds were available. NBC partnered with Descriptive Video Works - an industry leader in the delivery of quality described video and audio description for people with a visual disability - to provide this accessible service.
Video Description: Hear the Action
Video description refers to a special audio track that includes a narrator describing key visual elements of the show or movie you're watching.

For example, during the natural pauses in the show's dialogue, the narrator describes key visuals like actions, facial expressions, scene changes and even on-screen text and graphics.
How Do I Turn Video Description On?
You can enable video description using the Secondary Audio Program (SAP) or Multichannel Television Sound (MTS) feature on your TV or set-top box. Check your TV owner's manual or contact your video provider for instructions on how to turn video description on.