NBC Insider Exclusive
Create a free profile to get unlimited access to exclusive show news, updates, and more!
Sign Up For Free to View
Who's the Fastest Player in the NFL?
These are the players that make even true speedsters look slow.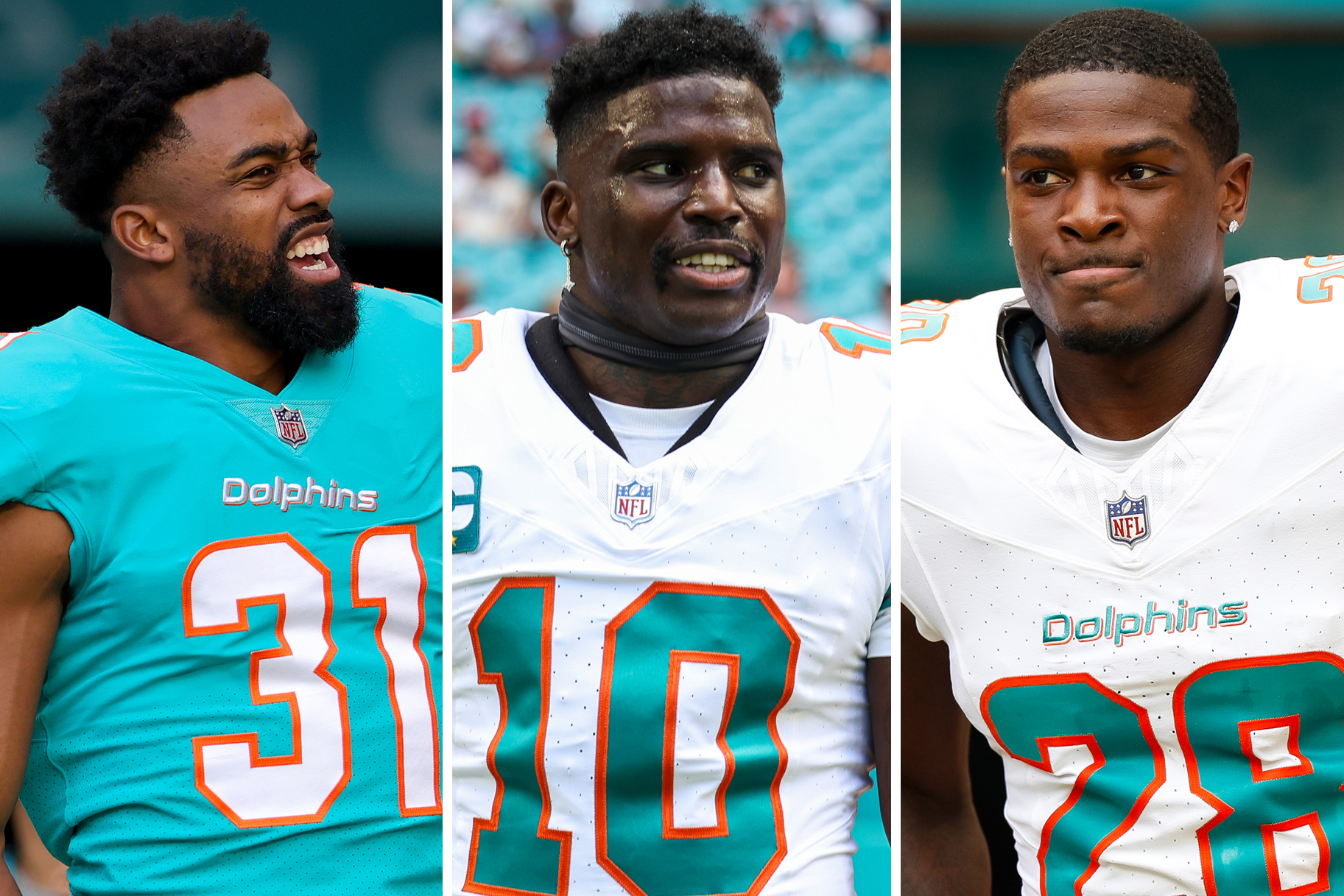 The NFL is a league full of amazing athletes, all of whom have skills well above and beyond the athletic abilities of most of us watching from our couches. That means that, on a pure human scale, even offensive linemen in the NFL are fast, which means that wide receivers and running backs are really fast. 
But who's the fastest of them all? On the scale of NFL speedsters, who are the guys who make a slot receiver look like a defensive tackle? Let's take a closer look at the football stars pushing the needle on the speedometer right now.
Speed in the NFL
Football's not a sport where anyone just gets to run unimpeded. It's not track and field, which means even the fastest players have to contend with defenders standing in their way, pesky angles of attack on the field, and of course, carrying a ball while running with pads and helmets strapped to their bodies. So, how do you figure out who's the fastest?
RELATED: Who Are The Tallest and Shortest Quarterbacks in the NFL?
Well, the NFL doesn't exactly regularly line their players up for a foot race. Every player entering the league is timed on a 40-yard-dash at the annual Scouting Combine, but beyond that we don't really get official speed numbers for every guy in every season. Thankfully, we've got the NFL's Next Gen Stats team, who are able to measure the top speeds of ball carriers with various pieces of state-of-the-art technology. That means that, while we may not get NFL speedsters racing side-by-side, we can find out who ran the fastest on any given week within any given play. It's not necessarily a perfect system, but it does tell us which players hit the highest top speeds while running on an NFL field. 
With all that in mind, let's get to the stats.
Who's the Fastest player in the National Football League?
As you may have already guessed if you watch enough football, the current reigning speed champion in the 2023 NFL season is Miami Dolphins receiver Tyreek Hill, whose top speeds account for four of the 20 top speeds recorded by Next Gen Stats so far this season. That includes the highest top speed of any ball carrier this year so far, as Hill reached 22.01 miles per hour in Week 5 while running 64 yards for a touchdown. He also has the number four spot on the list thanks to a 47-yard touchdown reception which saw him reach speeds of 21.66 miles per hour during Week 1.
So Hill is the fastest, but who's the runner up? We don't have to go very far to find him, because they're on the same team. Rookie Dolphins running back Devon Achane holds both the second and third spots on the list of top speeds so far this season, logging a blistering pace of 21.93 miles per hour during a touchdown run in Week 3, and 21.76 miles per hour during another touchdown run in Week 5.
RELATED: How to Watch Sunday Night Football on NBC and Peacock: Jets vs. Raiders
Wanna know the third fastest? It's... shocker... another Miami Dolphin, specifically running back Raheem Mostert, who hit 21.62 miles per hour during a Week 2 touchdown run. That means that the top three fastest players in the league right now, occupying the top five spots on the fastest ball carrier list, are all on the same team. No wonder that Dolphins offense can bring the fireworks. 
Together, Hill, Achane, and Mostert account for nine of the top 20 top speeds recorded by the NFL so far this season, a truly dominant performance for the Dolphins speedsters. But of course, other players did wind up on the list. The sixth fastest speed of 2023 belongs to Seahawks running back Kenneth Walker, who hit 21.56 miles per hour during Week 8, while Bengals receiver Ja'Marr Chase is right behind him with 21.54 miles per hour during a Week 5 touchdown reception. Jets running back Breece Hall also makes the list thanks to a 21.5 miles per hour run in Week 5, while Packers running back Aaron Jones and cornerback Keisean Nixon both cracked the top 20 with runs of 21.48 and 21.46 miles per hour, respectively. 
Rounding out the list so far this year, we've got Saints receiver Rashid Shaheed (21.42 miles per hour), Broncos receiver Marvin Mims (21.38 miles per hour), Broncos running back Jaleel McLaughlin (21.17), Raiders receiver Tre Tucker (21.17), Falcons tight end Jonnu Smith (21.15), and Browns running back Jerome Ford (21.13). So, even with the Dolphins' dominance, it's a pretty interesting list. And of course, these are just the top 20. There are plenty of other speedsters worth keeping an eye on in the NFL this season.
Want more NFL action? Be sure to catch Sunday Night Football, airing Sundays at 8:20 p.m. Eastern on NBC, and streaming simultaneously on Peacock.