NBC Insider Exclusive
Create a free profile to get unlimited access to exclusive show news, updates, and more!
Sign Up For Free to View
Winners Circle: Who Are the Hot Wheels™: Ultimate Challenge Winners (So Far)?
Here's who has won each week of NBC's Hot Wheels™: Ultimate Challenge.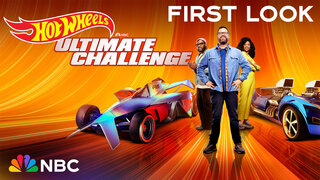 Every week on NBC's Hot Wheels™: Ultimate Challenge, two contestants enter and compete to transform a regular car into some extraordinary creation inspired by their own history and the iconic toy. And, at the end of each week, only one of them gets the final approval from host Rutledge Wood, his fellow judges Dalal Elsheikh and Hertrech "Hert" Eugene Jr., and a roster of guest judges including Jay Leno and Terry Crews. 
RELATED: Meet the "Car Pool," the Auto Experts Bringing Hot Wheels™: Ultimate Challenge's Builds to Life
Here are all the winners of Hot Wheels™: Ultimate Challenge so far — and remember, while each of these winners gets $25,000, three of them will come back for the finale and compete with brand-new cars for an additional $50,000 and a chance to have their winning design become an official Hot Wheels car. 
Hot Wheels Season 1, Episode 1 Winner
In the series premiere, Jim's '69 Dodge Charger, which he tricked out so that it could pop an impressive, hydraulics-assisted wheelie, beat out Jadejha's futuristic 2009 Chevrolet Camaro. While it was a close competition, it was the wheelie that gave Jim the win. 
"Oh man, that thing blew me away," Elsheikh said. "I've got to be honest, it was such a tight race, I couldn't tell who was going to take it but Jim really won my heart over when that thing performed. I was not expecting it to go that high!" 
Hot Wheels Season 1, Episode 2 Winner
In the second episode of the show, it was Sheilah's Monster Bug — her take on a 1970 Volkswagen Beetle — that bested Kevin's 977 Ford Thunderbird-turned-Texas pride ride. While the hydraulics that let Kevin's car buck like a bronco were impressive, the extent of Sheilah's transformation was what pushed her over the edge.
"If you really think about it, they took the top of a Beetle and built everything else from scratch," Eugene said. "They even put it back together backward… Every little element that they did on their car was done in such fine detail. It's hard not to love it." 
New episodes of Hot Wheels: Ultimate Challenge premiere on Tuesdays at 10PM ET/PT on NBC. You can catch up the next day on Peacock.