NBC Insider Exclusive
Create a free profile to get unlimited access to exclusive show news, updates, and more!
Sign Up For Free to View
Who Is Big E, Special Guest Judge on Hot Wheels™: Ultimate Challenge? What to Know
Who's a better judge for a larger-than-life competition than a larger-than-life WWE Superstar?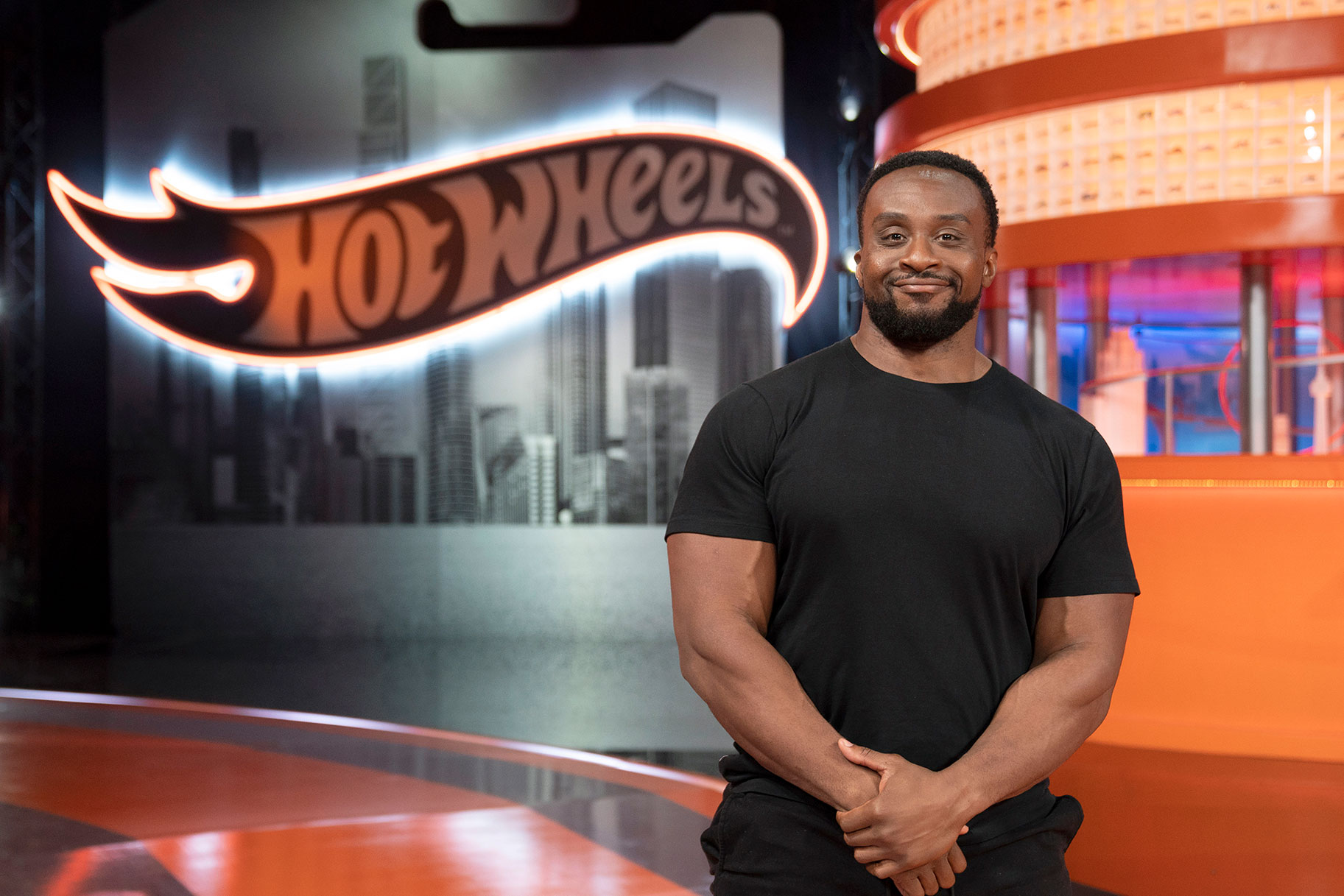 On May 30, nostalgia collides with modern imagination when Hot Wheels™: Ultimate Challenge premieres on NBC.
Network television hasn't seen a show quite like Hot Wheels: Ultimate Challenge before, as it aims to capture the essence of the iconic Mattel brand while combining good, old-fashioned competition among superfans of the toys. Each episode will pit two superfans competing to turn nostalgic cars from their childhood into real-life, full-sized Hot Wheels cars en route to winning the finale and receiving the honor of having one of their designs made into an official Hot Wheels die-cast car! 
RELATED: Who Is Rutledge Wood, the Host of NBC's Hot Wheels™: Ultimate Challenge?
Competitors will be judged by a panel of Hot Wheels experts and a rotating cast of celebrity judges – and WWE Superstar Big E is bound to turn heads with his trademark over-the-top personality and gentle spirit! Audiences worldwide are destined to fall in love with the massive WWE Superstar, so ahead of the show's debut, here's everything you need to know about Big E!
Who Is WWE Superstar Big E?
The WWE Universe is innately familiar with Big E. After debuting in NXT – WWE's equivalent to the minor leagues – in 2012, he quickly captured the promotion's top championship. It wasn't long until Big E – who stands six feet tall and tips the scales at nearly 300 pounds – burst onto the scene on Monday Night RAW, captivating a worldwide audience in the process. Had Big E been born into a different generation, he undoubtedly would have been cast as the stereotypical "monster of the month," but in modern WWE, he is a unique Superstar that hasn't been seen before. From his seemingly-superhuman strength to his fun-loving and positive attitude, the WWE Universe has never seen a wrestler quite like Big E.
Big E made history when he captured the greatest prize in sports entertainment – the WWE Championship – on a September 2021 episode of RAW, cementing himself as part of the upper echelon of WWE talent:
However, his WWE Championship win isn't the most notable part of Big E's career. From early on in his career, he's been part of the "New Day" faction alongside fellow fan-favorites Kofi Kingston and Xavier Woods.
Big E Is All About Putting Smiles on People's Faces
The New Day's success is proof that sometimes, the sum of a whole is greater than its parts. Seemingly attached to the hip for nearly a decade, the three men have made it their mission to turn WWE upside down with their shameless brand of positivity – and comedy. Big E, Kingston, and Woods aren't afraid to speak their minds or go for the obvious jokes – they're all about having fun, even if it's at the expense of their fellow Superstars.
Although the WWE Universe didn't immediately embrace the group's antics, they eventually rose to rarefied air: Becoming beloved by the vast majority of wrestling fans. When Big E and the rest of New Day enter the arena – whether competing in the ring or taking advantage of a live microphone – they are met with universal adoration. Show me a wrestling fan who dislikes New Day, and we'll show you a liar. 
During a period when a lot of WWE feels like a smooth-running television show, Big E and New Day stand apart from other WWE Superstars, seemingly unencumbered by scripted lines and eye roll-inducing forced "drama." The three members of New Day bleed authenticity, and as a result, they continue to be one of WWE's hottest acts. 
What is Big E's Current WWE Status?
Unfortunately, Big E has been out of WWE action since March 2022, when he suffered a broken neck during a match on SmackDown. As we stand at nearly the midpoint of 2023, Big E is optimistic that he'll eventually return to the ring after successful surgery to repair vertebrae in his neck – but nothing is confirmed yet. 
It's still a waiting game for the WWE Universe as they collectively wait with bated breath to find out if one of the most well-liked Superstars in history will continue to make his mark on wrestling history.
Until then, Big E's larger-than-life and supremely cheery personality will no doubt steal the show when Hot Wheels: Ultimate Challenge debuts in just a few short weeks! Big E joins a star-studded cast of celebrity judges, including Terry Crews, Anthony Anderson, and even car guru Jay Leno. Looking at this list of celebrities slated to join the show, you may wonder if Big E will get lost in the shuffle – but that won't be the case. 
We're sure by the end of the season, Big E will make a monumental impact on Hot Wheels: Ultimate Challenge – just like he's done for over a decade in WWE!
Hot Wheels: Ultimate Challenge premieres on NBC on May 30 at 10PM ET/PT.