NBC Insider Exclusive
Create a free profile to get unlimited access to exclusive show news, updates, and more!
Sign Up For Free to View
Who Are the Celebrity Judges Pulling Up to NBC's Hot Wheels™: Ultimate Challenge?
A guide to the guest judges joining Rutledge Wood for Hot Wheels™: Ultimate Challenge.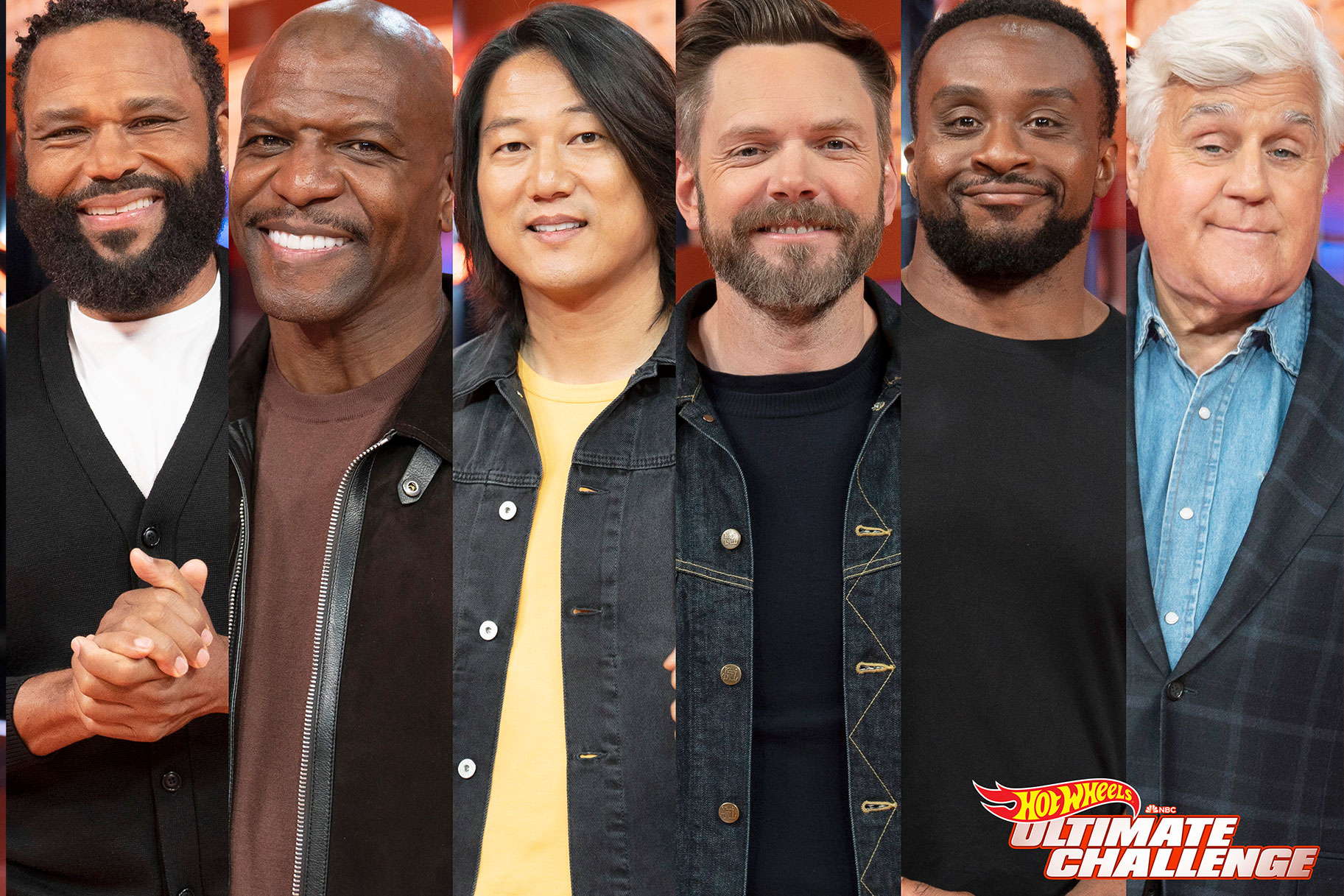 When Hot Wheels™: Ultimate Challenge premieres on NBC on May 30, fans of the new competition series will meet host Rutledge Wood, a group of super-passionate super fans, and be treated to a rotating team of celebrity guest judges. But who can fans expect to see?
The celebrity guest judges for Hot Wheels: Ultimate Challenge are Anthony Anderson, WWE Superstar Big E, Terry Crews, Sung Kang, Jay Leno, and Joel McHale, all of whom will help to determine the winners of NBC's epic new car makeover competition show, which premieres on Tuesday, May 30th at 10 p.m. ET/PT.
Hot Wheels: Ultimate Challenge revs up to give passionate car lovers and Hot Wheels™ superfans the opportunity of a lifetime – turning a nostalgic car from their past into the life-sized Hot Wheels of their dreams.
Hosted by car aficionado Rutledge Wood, each episode will invite two superfans into the Chrome Zone, where they will face off in transforming an ordinary vehicle into an extraordinary Hot Wheels showstopper, inspired by personal stories and pop culture touchstones. Working alongside a team of automotive magicians known as "The Car Pool," the two superfans will create their designs in high-tech, decked-out garages.
RELATED: Who Is Rutledge Wood, the Host of NBC's Hot Wheels: Ultimate Challenge?
The winner of each episode will take home $25,000 and the chance to get into the finale, where three lucky finalists will transform another car in hopes of winning a legendary prize: An additional $50,000 and the honor of having their build made into an official Hot Wheels die-cast car.
Let's meet our guest judges!
Anthony Anderson
Longtime NBC viewers will know Anthony Anderson from his longtime role on Law & Order as Detective Kevin Bernard. He recently returned to the role for the newest season, to the delight of many a fan. Anderson is well known for his comedic chops and voice acting skills, which have come in handy in his various television and film roles, including Black-ish, Kangaroo Jack, the Barbershop movies, and the Scary Movie franchise.
Big E
Big E (aka Ettore Ewen) is a former powerlifter-turned-WWE Superstar who will undoubtedly bring that in-ring energy to Hot Wheels: Ultimate Challenge. If there's anyone who knows a thing or two about competition, it's him. As part of the wrestling stable The New Day, Big E holds the tandem record for the longest RAW Tag Team Championship reign at 483 days. He's a WWE Champion and a two-time Intercontinental Champion.
Terry Crews
America's Got Talent host Terry Crews will undoubtedly prove to be a peck-popping fan-favorite when he acts as a guest judge on Ultimate Challenge. He'll bring his charisma and sense of humor, which fans will recognize from his role as Terry Jeffords in Brooklyn Nine-Nine.
RELATED: Looking Back at AGT Host Terry Crews' Fascinating Career
Sung Kang
#JusticeforHan continues as Sung Kang — best known for his role as Han Seoul-Oh in the Fast and Furious franchise — joins the Hot Wheels: Ultimate Challenge guest judge line-up. Sung Kang will return for Fast X on May 19, and then bring his charm and stunt car know-how to Ultimate Challenge right after the fact.
Jay Leno
Legendary host Jay Leno joins the finale episodes and will have a hand in determining the transformation that will be made into an official Hot Wheels die-cast car. If you don't know who Leno is, there's really not much we can do to help you, though familiarizing yourself with his role as the host of NBC's The Tonight Show from 1992 until 2009 is a good start.
Joel McHale
Actor, comedian, and television host Joel McHale is known for being quick on his feet and always ready to throw out a quip (or five). He's best known for hosting The Soup from 2004-2015 and for his role as Jeff Winger on the NBC sitcom Community.
Catch every celebrity guest judge appearance when Hot Wheels: Ultimate Challenge premieres on NBC on May 30 at 10PM ET/PT.