NBC Insider Exclusive
Create a free profile to get unlimited access to exclusive show news, updates, and more!
Sign Up For Free to View
Blake Shelton Gave a Hilarious Preview of How He'll Spend His Post-Voice Retirement
We know The Voice Coach wants to spend more time on his ranch—and it looks like he's starting to do just that.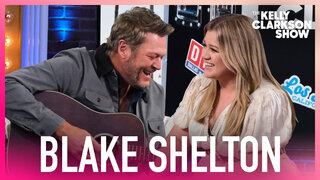 Looks like Blake Shelton is having the time of his life before The Voice Season 23!
On February 2, the country star posted a close-up video of himself driving a riding lawn mower, living life on the edge you could say.
"Hey hey! I'm mowing in the snow! Because I can! Whoooo!" he cheered while wearing a camouflage outfit as his song "God's Country" played in the background.
"Don't try this at home... #kubota #kubotacountry #kubotatractors #kubotausa" he captioned the post.
This fun video is a sneak peak of what's to come for Shelton's life when he retires from The Voice. He announced that Season 23 would be his last in October 2022 and has stated in interviews that the choice was to spend more time with his family, especially wife Gwen Stefani, in their home in Oklahoma.
"It's a lot of time away from the family, those kinds of things. I think he just got to a point where he just wants time in his ranch, like time to just do the other things that he loves to do," Stefani told Extra about Shelton's departure in 2022.
"I'm excited for him because, you know, we have lives outside of work, and it's a really good life, it's really fun, and we have so much fun! We have Oklahoma, which is something I never knew I needed and wanted, you know? We planted a garden, we do all kinds of fun stuff. So we're looking forward to doing some of that family stuff together. It's 'gonna be great," she added.
As for Shelton's thoughts on the situation, he is eternally grateful for his time on The Voice. "I've been wrestling with this for a while, and I've decided that it's time for me to step away from The Voice after Season 23," he said in a statement. "This show has changed my life in every way for the better, and it will always feel like home to me. It's been a hell of a ride over these 12 years of chair turns, and I want to thank everyone at The Voice from NBC, every producer, the writers, musicians, crew and catering people; you are the best."