NBC Insider Exclusive
Create a free profile to get unlimited access to exclusive show news, updates, and more!
Sign Up For Free to View
This Is the Surprising Reason Nurse Casey Left New Amsterdam
He was soaring to new heights. Literally.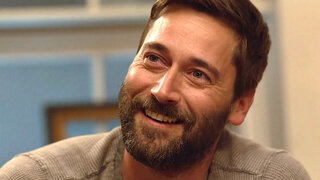 In the midst of Max (Ryan Eggold) vying to fix a dangerous city crosswalk, and Iggy (Tyler Labine) taking on an intense new case with a Deaf child, a beloved familiar face made their return on New Amsterdam's October 25th episode.
After a brief hiatus, Nurse Casey (Alejandro Hernández) is officially back in the Emergency Department like he never left. But why was he gone in the first place? We have the surprising answer, below.
What happened to Nurse Casey on New Amsterdam?
The last time we saw Casey on New Amsterdam was at the end of Season 4—and fans may remember that the emergency nurse endured a lot throughout the 22 episodes. Earlier in the season, he quit following a cyberattack on the hospital, only to return to help Max take down Fuentes. Later on in the season he got in a near-fatal accident which left him with a screwdriver lodged in his neck. Thankfully, he had a successful surgery to remove it and the experience brought him and Bloom (Janet Montgomery) even closer.
Fast-forward to Season 5, and we haven't seen Casey at all—until Episode 6 and his surprise return to the Emergency Department. Before he and the rest of the team were unfortunately poisoned by some bad cream cheese (Bloom's mistake), Casey revealed that in his time away he was—wait for it—climbing Machu Picchu. We'd say that's a sufficient excuse to take some time off from work.
Welcome back, Nurse Casey!
Watch New Amsterdam on NBC Tuesdays at 10/9c and next day on Peacock.