NBC Insider Exclusive
Create a free profile to get unlimited access to exclusive show news, updates, and more!
Sign Up For Free to View
This Team Blake Fan Favorite Just Performed For Bill Clinton
What an amazing opportunity! Watch The Voice Season 23 Mondays and Tuesdays on NBC.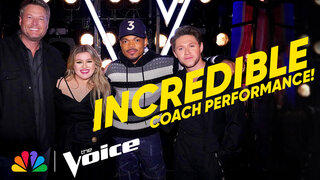 The Voice Season 22 runner-up Wendy Moten just achieved a very exciting milestone!
On March 5, the singer took to her official Instagram page to post some behind-the-scenes snapshots of herself with President Bill Clinton, who she got to perform for that week.
The arrangement of snapshots showed Moten enthusiastically shaking hands with the former president while she was holding a microphone. Moten also posed with Clinton and singer Mandy Barnett before posting a photo of herself standing next to a Hillary Clinton cardboard cutout.
"I've had the honor of performing in front of many presidents and prime ministers throughout my musical career. A big thank you to Jamie Amos and Patrick Kennedy for creating this AMAZING opportunity to perform for President Bill Clinton & The Clinton Foundation!" Moten captioned the post. (See it here.) 
Already a veteran of the music industry, Moten heightened her career when she was an Artist on The Voice in Season 22. She sang a rendition of "We Can Work It Out" by The Beatles during her Blind Audition and earned a rare Four-Chair Turn.
"You are what this show is all about—a voice that is so powerful, that is so transcendent, that you kind of move people to, like, another level," Coach Kelly Clarkson gushed during Moten's Audition. "I forgot that I hadn't even pressed my button; I was just enjoying myself. It's your show, it was beautifully done."
Moten ended up choosing Team Blake and finished in second place that season. The vocal powerhouse has been continuing to make a legacy for herself ever since.
"When I think of one Blind Audition that I was just shocked and amazed, and I still can't, haven't gotten over it, it would have to be Wendy Moten," Blake Shelton told NBC Insider. "It's still one of the best singers—maybe the best singer that I've ever just sat and listened to in a room. It's just unbelievable."
NBC Insider also spoke to Moten herself about her experience on The Voice.
"I've worked with some of the greatest Artists in history; they were great storytellers, and I just wanted to reach people through song," she said.
Moten is also grateful to this day that she chose Team Blake.
"What I loved about Blake was he knew that I had a lot of experience. He also was not trying to change me. If anything, he was encouraging me to trust my instincts," she added .
Watch The Voice on NBC Mondays at 8/7c and Tuesdays at 9/8c and next day on Peacock.