NBC Insider Exclusive
Create a free profile to get unlimited access to exclusive show news, updates, and more!
Sign Up For Free to View
Why Cait Martin's 'Spot-On Whitney' Knockout Performance Almost Made Chance The Rapper Curse
Cait Martin and Kala Banham went head to head on the Knockout Rounds on The Voice Season 23 – and the results left the Coaches stunned.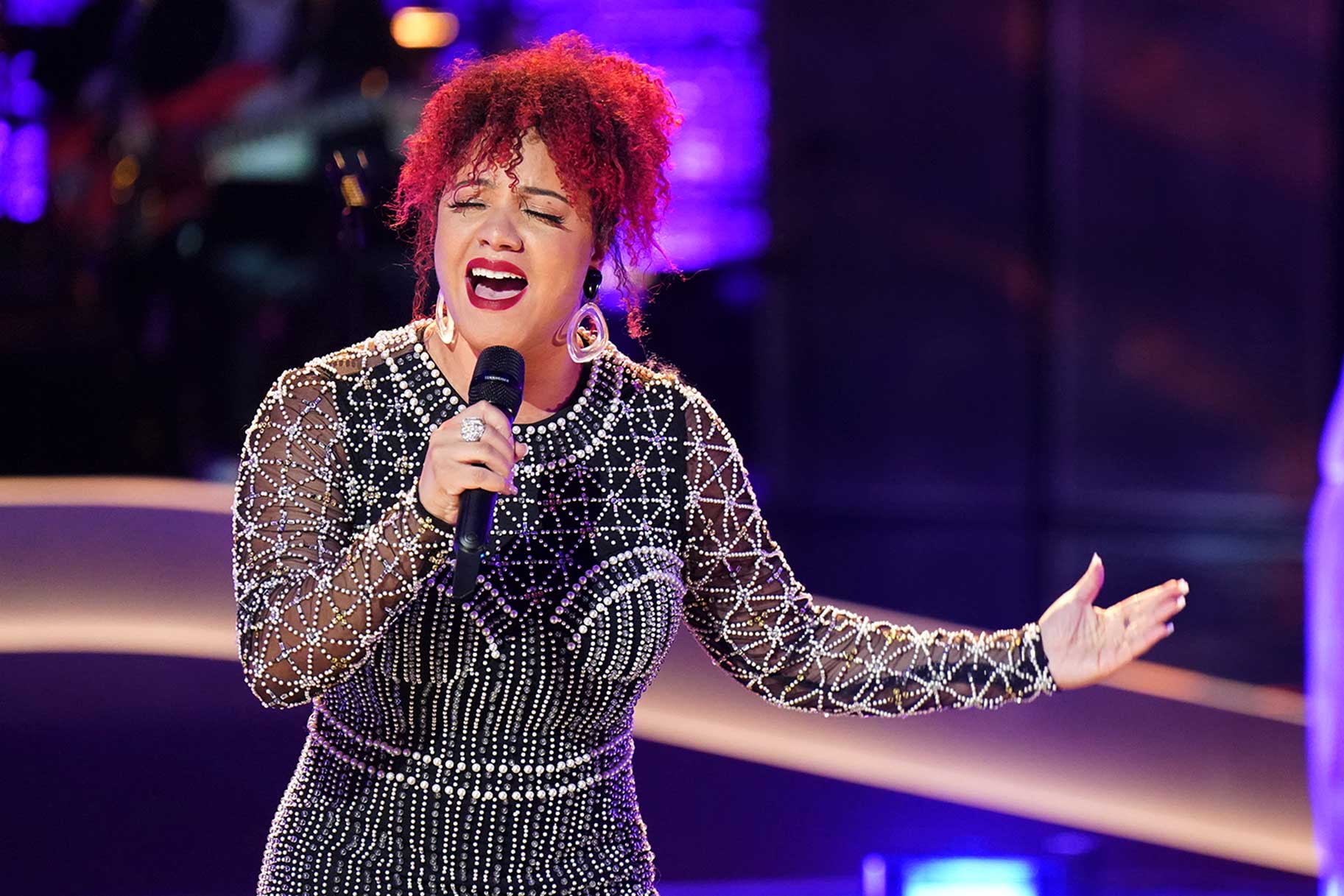 We expect Knockouts on The Voice to bring vocals that are just so (censored!) good. But one performance got a freshman Coach so excited he nearly got himself bleeped.
That all went down when Cait Martin and Kala Banham from Coach Kelly Clarkson's team faced off with a pair of well-known pop hits. 
Banham, 24, from Windermere, FL, selected Goo Goo Dolls' "Iris," which speaks to her about her relationship with music. Martin, meanwhile, selected Whitney Houston's "All the Man That I Need" and dedicated her Knockout performance to her boyfriend.
Martin spoke for both of them when she said that seeing Mega Mentor Reba McEntire made her "faint."
"I'm really excited to hear y'all sing," said McEntire, whose career runs from country music to Broadway and beyond. 
"I paired Kala with Cait because Cait is one of the strong frontrunners on my team and Kala is a steal," said Clarkson, adding that it was an experiment of sorts to see if Kala would rise to the occasion.
Martin, who's 33 and from Atlanta, said that much of her nuance, tone, and control "comes from listening and studying Whitney." 
During rehearsals, Clarkson was wowed but advised Martin that her vocals got "a little sharp." McEntire was "blown away" by the vocals and stage presence, saying, "I know she's going to blossom." 
Banham's rehearsal, meanwhile, gave McEntire chills and made Clarkson cry. "You tell a great story when you sing," said McEntire. Clarkson urged Banham to seek out sections in which to amp up the ache. 
Fellow Coaches weighed in after the performance. Blake Shelton jokingly (sort of) acknowledged that his "two cents" wouldn't matter much to Clarkson. For him, Martin hit "a lot of sharp notes," while Banham was "right on the money." He leaned toward Banham.
Niall Horan, however, declared that Martin "smashed it" and called Banham's storytelling ability "insane." Banham got his vote too.
Chance the Rapper gave a mini-recap of what's gone down during Season 23. "Kala, I've been trying to get on my team this whole show," he said. "But I just want to emphasize the fact that Cait just smashed that. It was spot on Whitney."
Chance wasn't finished. "I'm trying so hard not to curse. I'm just so floored." He added that Martin took "that round by the throat. It's Cait all the way."
RELATED: Who Are Blake Shelton's Most Frequent Songwriting Partners?
Clarkson agonized as she faced her decision, likening the singers to a pair of vocal ninjas. "You don't deserve to go home, either one of you," she said. "You both impress the hell out of me."
In the end, Clarkson chose Cait, who was was over the moon.
Carson Daly reminded the Coaches that Banham was available for a steal. Both Shelton and Chance used their steal to add her to their team.
Shelton pointed out that he, unlike Chance, had just declared Banham the winner of the Knockout. 
Chance, meanwhile, recalled turning for Banham in the Blind Auditions and said he's been waiting to get her on his team. Chance revealed he was playing "the long game." 
Banham's new coach? Chance the Strategist!
"Chance ended up choosing Cait in the Knockout in order to get Kala on his team as a steal," marveled Shelton. "I had no idea, I did not see that coming at all."
"I was using tactics," said Chance. "Strategy."
Watch The Voice on NBC Mondays at 8/7c and streaming the next day on Peacock.