NBC Insider Exclusive
Create a free profile to get unlimited access to exclusive show news, updates, and more!
Sign Up For Free to View
The Official Trailer for the New Quantum Leap is Here, and It's Show-Stopping
The new Quantum Leap premieres Monday, September 19 at 10/9c on NBC.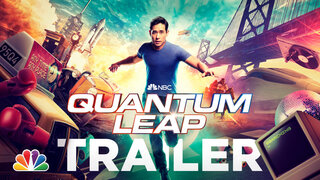 Sci-fi fans, get ready to leap for joy: We have an official trailer for the new Quantum Leap series. 
In the new trailer, Dr. Ben Song (Raymond Lee) opens his eyes and sees a movie theatre advertising The Goonies and St. Elmo's Fire. Brightly-clothed strangers pass Ben while listening to their Walkmans. He turns and spots a poster for a Live Aid charity concert. The year is 1985, and Ben has no idea where or who he is. 
Despite Ben's confusion, he has no time to panic because he soon realizes he's behind the wheel of a robber's getaway car.
Intercepting Ben along the way is a mysterious woman from the future who appears to him as a hologram. "I don't remember anything!" he tells her. The robbers exit the building, and it's time for Ben to drive. 
The woman guides Ben through a whirlwind getaway and provides clarity to our confused protagonist: "Your name is Dr. Ben Song. You're from the year 2022. You're the lead physicist on a top-secret project called Quantum Leap. You're a time traveler."
We learn that this mystery woman is named Addison Augustine (Caitlin Bassett), and she's here to help Ben throughout his leaping adventures (and misadventures). Based on her flashbacks, Ben and Addison appear to be (or rather, will be?) romantically involved, but the Quantum Leap project has separated them. 
"You leap into people to help them or someone around them. Changing history for the better," Addison tells Ben. "No matter what happens, I am going to be with you every step of the way until we get you home."
We then see a montage of Ben assuming different identities. Ben leaps into the body of an in-orbit astronaut, a hair-metal rockstar, a paratrooper in line to jump. We also meet members of the new Quantum Leap team. Each time Ben leaps, he assumes a new identity and must learn how to help them before their time runs out. 
Ben then asks Addison the million-dollar question: "Just out of curiosity, if the person I leap into dies..?"
"You die, too," Addison solemnly tells him. 
"Right," Ben says. "Good to know."
Quantum Leap premieres Monday, September 19 at 10/9c on NBC and the next day on Peacock.