NBC Insider Exclusive
Create a free profile to get unlimited access to exclusive show news, updates, and more!
Sign Up For Free to View
Howie Mandel Just Sang 'Since U Been Gone'—And Kelly Clarkson Would Be Proud
He can breathe for the first time!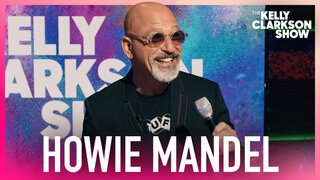 The Kelly Clarkson Show brought on a very special guest Host in early January. On January 9, 2023, America's Got Talent Judge Howie Mandel stepped in for Clarkson and also stood onstage to perform a rendition of her hit song, "Since U Been Gone."
"Don't adjust your [TV] sets; Kelly did not decide to part her hair everywhere," Mandel joked to the audience at the top of the show. "I'm kinda nervous, but you're in for a real good time...I love this show. Even when I'm not here, I never miss it, and I don't wanna change a thing. If it ain't broke, don't fix it." 
Mandel, not wanting to change the format of The Kelly Clarkson Show, then told the audience, "So, this is the part where Kelly usually sings, right? So, who's ready for some Howie-okie?! Hit it!" He then jumped into his own hilariously off-beat rendition of "Since U Been Gone." 
"Here's the thing, we started out friends. It was cool, but it was all pretend. Yeah, yeah, since you've been gone," he sang into the microphone with confidence.
"All you'd ever hear me say is how I pictured me with you; that's all you'd ever hear me say," he continued, inventing his own new melody for the lyrics.
Then, the song's signature chorus started. "But since you've been gone!" he sang briefly before stopping the band in a twist.
"No, no, no, I'm sorry. You guys [the band] were not on," he joked. "No, it's not their fault! You are an amazing band; I always listen to you, and you are amazing. You just didn't have enough time to get into my key."
Mandel is currently a Judge on America's Got Talent: All-Stars, which includes a whopping 60 Acts from the Got Talent universe competing again to win the ultimate title. All-Stars premiered on Monday, January 2, 2023.
To see Kelly Clarkson back in action, check your local listings for The Kelly Clarkson Show.
Also: Make sure to tune into AGT: All-Stars Mondays at 8/7c on NBC and next day on Peacock.