NBC Insider Exclusive
Create a free profile to get unlimited access to exclusive show news, updates, and more!
Sign Up For Free to View
Blake Shelton Gives 'Wifey' Gwen Stefani Advice In An Intense Knockout Decision
"This is terrible!" Stefani said after Alyssa Witrado, Daysia, and Sasha Hurtado's performances left her stumped.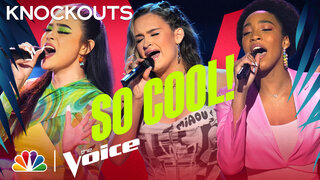 It looks like Gwen Stefani will have a tough choice to make during The Voice's latest round of three-way Knockouts.
In a sneak peek of Episode 15 airing Monday, November 7, Alyssa Witrado, Daysia, and Sasha Hurtado each sung their hearts out, vying for a spot on Team Gwen. Witrado chose a Queen classic, "Don't Stop Me Now," Daysia took on "Get Here" by Oleta Adams, and Hurtado performed a rendition of Ed Sheeran's "Make It Rain."
With their respective performances, each displayed a vocal talent beyond their years. However, both John Legend and Blake Shelton had the same idea of who should win.
"Sasha, every note you hit was flawless," Legend said. "I loved your vibrato. Vocally it was just a tour de force. Though, decision-wise for Gwen, I think it's tough. But I think as a vocalist, I think Sasha was my favorite."
Shelton told Stefani he would "be going with Sasha right now," which led to an adorable exchange between the newlyweds.
"Thank you, husband Blake, thank you," she said. His response? "You're welcome, wifey."
However, the advice didn't seem to help Stefani. She had praise for each of her team members. "I have no idea what to do. This is terrible!" she said, with Carson Daly adding that it was a "near impossible decision."
So who will be moving on with Team Gwen? It looks like we'll have to wait until Monday night to find out.
Watch The Voice on NBC Mondays and Tuesdays at 8/7c and next day on Peacock.