NBC Insider Exclusive
Create a free profile to get unlimited access to exclusive show news, updates, and more!
Sign Up For Free to View
Why Gwen Stefani Says Kiqué Is One of the 'Most Gifted Singers' She's Ever Met
Sadly, the early fan-favorite was sent home.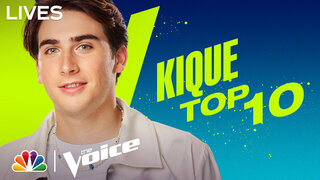 Though he was given another chance through last week's Instant Save, The Voice's Kiqué unfortunately landed in the bottom once again and was sent home during November 29's Live Results Show.
The early fan favorite—who delivered one of the show's most impressive Knockouts ever—sang The Weeknd's "Call Out My Name" for his Top 10 performance. The cover was made all the more impressive given that the Miami native recently tested positive for COVID-19, and he was unable to compete in-person at The Voice studio. This meant his performance was pre-recorded and he video-conferenced into the show from isolation.
"So this Friday I tested positive and then the production crew at @nbcthevoice started working immediately to make a seamless show," he revealed on Instagram. "I had to do some really new things and sing for robot cameras instead of an awesome audience, but at the end of the day I am so grateful to still be [here]."
Despite these efforts, the 19-year-old was in the bottom three alongside Rowan Grace (Team Blake) and Kim Cruse (Team Legend). He was forced to pull off another Last Chance Performance—which was also pre-recorded—this time singing Leon Bridges' "River."
"It's very rare to come across an Artist that is so young, that is honestly so unique in his style of singing," his Coach, Gwen Stefani, said. "It's one thing to just have a technically good voice, but he is so recognizable. You can just understand his whole personality through his unique voice. I think it would be a shame, America, if you didn't vote through Kiqué. Kiqué is one of the most gifted singers I've ever met."
But in the end, fans awarded Cruse the Instant Save, sending Kiqué and Rowan Grace home. In spite of a week full of setbacks, he's remaining positive.
"Everybody has to go home at some point, but at the end of the day I'm happy," he said in an Instagram video. "I did two performances that I'm super happy with and that I'm proud of, and that's the note that I want to go out on...I wouldn't have changed anything."
He continued, "I'm going to work on music the second I get home. Best believe this is not it."
Watch The Voice on NBC Mondays and Tuesdays at 8/7c and next day on Peacock.