NBC Insider Exclusive
Create a free profile to get unlimited access to exclusive show news, updates, and more!
Sign Up For Free to View
Why Camila Cabello Said 'A Star Was Born' After Kique's Knockout Performance
The 18-year-old put a surprising twist in an OutKast classic.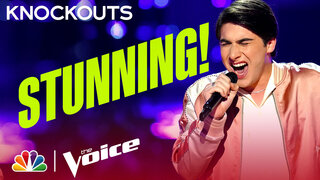 Miami native Kique took a huge risk putting his own spin on a beloved 2003 track. But luckily for him during The Voice's October 31st episode, it all paid off in the end. 
The 18-year-old kicked off Team Gwen's three-way Knockout Round with a unique rendition on OutKast's mega-hit, "Hey Ya!"
"One of my favorite things to do is change songs," Kique said. "I really want Gwen to see that I'm not just a singer. I'm also a musician. I like to create compositions and make music and change things and make them my own."
While his teammates Destiny Leigh and Rowan Grace also impressed the Coaches with their song choices ("Impossible" by Christina Aguilera and "Vienna" by Billy Joel), it was clear that Kique was a step above the rest.
"For you to take that song and do what you did with it was so audacious," John Legend said. "Truly one of the most compelling performances we've seen in three rounds on this show."
Camila Cabello added, "If this was a video game, you just skipped 20 levels today. For you to do a cover that was on the cutting edge of a song that was on the cutting edge was, like, inception. I felt like a star was born. It was beautiful to watch."
Related: Every Winner of The Voice's First-Ever Three-Way Knockouts
Though Stefani called the moment a "very hard decision", she ended up picking Kique as the Knockout winner, officially sending him through to Season 22's Live Shows. 
"Kique is just a very unique type of singer, and I can't wait to see what we do together next," she said.
Watch The Voice on NBC Mondays and Tuesdays at 8/7c and the next day on Peacock.