NBC Insider Exclusive
Create a free profile to get unlimited access to exclusive show news, updates, and more!
Sign Up For Free to View
Sasha Hurtado Reveals These Voice Contestants Are Now Her 'Best Friends'
And she has a sweet message for them after her elimination.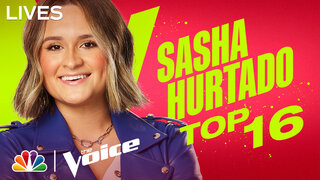 Sasha Hurtado might have been eliminated from the The Voice's Top 16, but she may have come away with something even more special than a win. 
After being stolen by two other Coaches twice throughout the competition, Hurtado finally landed with Team Legend for the Live Shows. The Dallas, Georgia native sang Elton John's 1971 classic "Tiny Dancer," showing a bolder side to her artistry,
"You've learned from each of us, different things from each of us," Legend said. "And also I just feel like you know now that you belong here and you walked around that stage with the confidence that showed that you belong here."
But during November 15's Live Results Show, Hurtado was thrust into the bottom four when fans chose Parijita Bastola and Omar José Cardona for the Overnight Vote. Legend then chose to save Kim Cruse. Hurtado fought for the final spot in the Top 13 with Sia's "Elastic Heart," but in the end, the fans' Instant Save went to Bryce Leatherwood. Hurtado was eliminated alongside Kevin Hawkins and Kate Kalvach.
After the show was over, Hurtado took to Instagram to post a lengthy and emotional message about what The Voice meant to her.
"I'm not saying this to be cliche or because I feel like I have to," she said. "I truly feel that this show changed my life, in more ways than one. I am extremely introverted & typically have social anxiety when alone. This was my first time traveling alone at 18. It pushed me to open up to people, make friends, speak up for myself, and lean on God."
She went on to reveal that she has become particularly close to fellow contestants Devix (Team Camila) and Alyssa Witrado (Team Gwen).
"This experience brought me two amazing best friends for life @alyssadaniellew @devixmusic," she said. "I'm most emotional leaving them behind, they deserve the world. I'm grateful to know them - they inspire me! I truly love everyone in this cast, the love & support we all showed one another was touching. Blessed to have met such kind and talented people."
Watch The Voice on NBC Mondays and Tuesdays at 8/7c and next day on Peacock.