NBC Insider Exclusive
Create a free profile to get unlimited access to exclusive show news, updates, and more!
Sign Up For Free to View
Why John Legend Used His Only Knockout Steal on Sasha Hurtado
"Team Legend's gonna take the title this season!"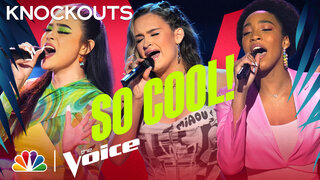 After three weeks of Knockouts on The Voice, every Coach has used their only Steal of the round–except for John Legend. But that changed after Team Gwen lit up the stage during November 7's episode.
Alyssa Witrado, Daysia, and Sasha Hurtado went head-to-head and displayed vocal talent that was beyond their years. After the impressive Knockout, both Blake Shelton and Legend recommended that Hurtado—who sang Ed Sheeran's "Make It Rain"—take the win.
"Sasha, every note you hit was flawless," Legend said. "I loved your vibrato. Vocally, it was just a tour de force. Though, decision-wise for Gwen, I think it's tough. But I think as a vocalist, I think Sasha was my favorite."
Though Stefani confessed she had "no idea what to do", in the end she went against her husband and Legend's advice: It was Witrado's rendition of Queen's "Don't Stop Me Now" that gained a spot in the Live Shows.
"With Alyssa, she's just special," Stefani said. "What I'm excited to see her do in the Live Playoffs is show what kind of star she really is."
However, the Coach's decision left room for Legend to swoop in, which he swiftly did. The "All of Me" singer couldn't resist the opportunity and used his Steal on Hurtado. This will be Hurtado's third team, as she was with Camila Cabello following Blind Auditions and then stolen by Stefani during Battles.
"Sasha deserved it, and I couldn't let her go home," Legend said. "She's been so good throughout these rounds. She's been stolen now twice, and she just hit every note so beautifully and with such precision and control. My team is shaping up to be winners. Team Legend's gonna take the title this season."
Related: Blake Shelton Gives 'Wifey' Gwen Stefani Advice In An Intense Knockout Decision
Watch The Voice on NBC Mondays and Tuesdays at 8/7c and next day on Peacock.