NBC Insider Exclusive
Create a free profile to get unlimited access to exclusive show news, updates, and more!
Sign Up For Free to View
Kate Kalvach Says 'Better Things Are Ahead' After Her Final Voice Performance
Fans won't have to wait long for new music...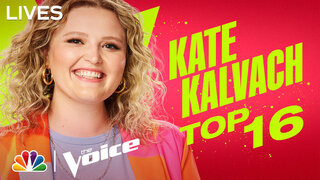 Team Camila's Kate Kalvach may have had some technical difficulties during her first-ever Live Show performance on The Voice, but as they say, the show must go on.
The Oklahoma City native still managed to impress the Coaches with her own version of Shania Twain's "You're Still the One," even though she confessed her "voice was not in my ears" at the beginning of the song.
"For anybody at home that doesn't know, her voice not being in her ears means she's relying on the echoey chamber of the room," Camila Cabello said during the show. "So that's really hard to do when your voice isn't in your in-ears and you handled that like a total pro. I think that your voice is magical and angelic, and I love the perspective you had of doing this song but doing it in your own way."
However on November 15, Kalvach found herself in the bottom four after the Overnight Vote saved Team Camila's Morgan Myles and Devix. Cabello then saved Eric Who. That left Kalvach with a Last Chance performance, for which she sang Miley Cyrus' "When I Look at You."
Unfortunately, it wasn't quite enough to keep Kalvach in the competition. She was eliminated alongside Kevin Hawkins and Sasha Hurtado, while Bryce Leatherwood earned the Instant Save.
"What a fitting final performance for my time on @nbcthevoice," she wrote on Instagram. "Through this whole process, I've felt the 'waves' flooding the shore. The waves of nerves, pressure, expectations, and comparison. BUT that's when I looked to God. This song told the story of my time here. Over and over, I've been reminded to look up to the Lord... I've been challenged like never before to be content in His plan. I can't think of a better way to put a bow on this experience than with this song & what it has meant to me. @nbcthevoice thank you for the ride of a lifetime! I'll never forget it!"
But fans of the 27-year-old shouldn't worry. She also revealed in her Instagram Stories that new music is in the works.
"I planned to release an album this year, but I put it on hold for this opportunity," she said. "So glad I did because now so many more of you will be able to hear it!!! if u liked what you saw on The Voice, don't go anywhere...Better things are ahead. Thank you everyone for your support!!!! I'm incredibly grateful for this experience. I couldn't have asked for more."
Watch The Voice on NBC Mondays and Tuesdays at 8/7c and next day on Peacock.