NBC Insider Exclusive
Create a free profile to get unlimited access to exclusive show news, updates, and more!
Sign Up For Free to View
The Exorcist: Believer's Ellen Burstyn on Returning to Chris MacNeil 50 Years Later: "Who Has She Become?"
The Exorcist: Believer exclusively hits the big screen on Friday, October 6.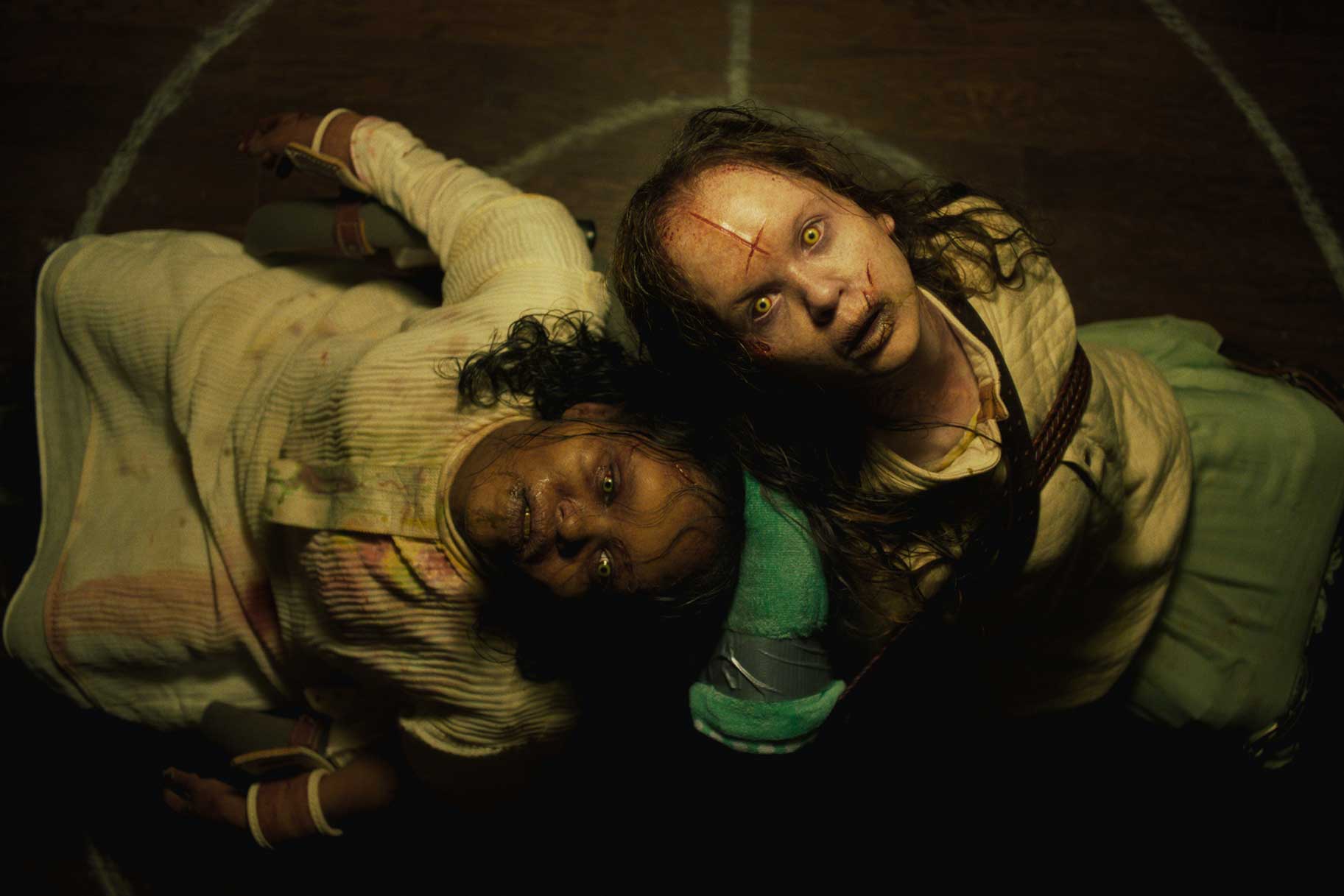 What's the mark of a good Exorcist movie? According to David Gordon Green, it "creeps under your skin and gets ya."
Green, who recently breathed new life into the Halloween franchise, has once again partnered with Universal Pictures and Blumhouse for another horror saga. Instead of slasher-based thrills, however, the filmmaker is now setting his sights on a demonic trilogy, beginning with The Exorcist: Believer (exclusively opening in theaters everywhere Friday, October 6).
RELATED: How to Get Tickets For The Exorcist: Believer, Plus IMAX Details
Part sequel and part modern revival, Believer takes place 50 years after the events of the 1973 original, effectively ignoring all of the canon established by the various films (and that short-lived TV show) produced in the decades since William Friedkin changed the horror game forever. When two young girls (played by Lidya Jewett and Olivia O'Neill) emerge from the woods after several days, linked by a malevolent entity (not Pazuzu), their parents bring in the big guns: Ellen Burstyn's Chris MacNeil.
"Playing a character that I created 50 years ago, I thought, 'She's had 50 years of living. Who has she become?'" Burstyn muses in a behind-the-scenes featurette.
Watch a new featurette for The Exorcist: Believer below
What is The Exorcist: Believer rated?
The film is rated R for "some violent content, disturbing images, language and sexual references."
When does The Exorcist: Believer open in theaters?
Originally slated for a Friday the 13th debut, The Exorcist: Believer will now hit the big screen a week earlier on Friday, October 6. Click here to pick up tickets (the power of Fandango compels you!).
Leslie Odom, Jr., Ann Dowd, Jennifer Nettles, and Norbert Leo Butz round out the principal cast. While Linda Blair does not appear as Regan MacNeil, the actress did serve as a technical advisor on the project, offering advice to Believer's two young leads.
Green, who shares screenplay credit with Peter Sattler, conceived of the story alongside Danny McBride and Scott Teems. Green and McBride serve as executive producers with Stephanie Allain, Ryan Turek, and Atilla Yücer. Jason Blum, David Robinson, and James G. Robinson are producers.
Two sequels are already in development, with the first of them — titled The Exorcist: Deceiver — currently scheduled for an April 2025 release. A title and release date for the third movie have yet to be announced by Universal Pictures.
Craving some demonic thrills in the meantime? Head over to Peacock for The Exorcist III and Dominion: Prequel to the Exorcist.