NBC Insider Exclusive
Create a free profile to get unlimited access to exclusive show news, updates, and more!
Sign Up For Free to View
11 Seriously Strange America's Got Talent Auditions
They're have been some truly shocking and surprising AGT Auditions over the years — here are some of the best.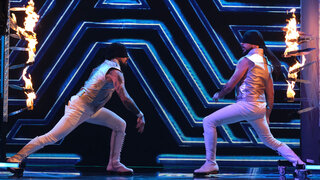 America's Got Talent has brought us some mind-blowing Auditions over the years with ultra-skilled performers. And some of those skills have been, well, downright strange. But we love them all the same!
Below, see 11 of our favorite seriously incredible, but weird AGT Auditions.
1. Sethward's Comedy Act on Season 13
Comedy act Sethward may have auditioned on AGT multiple tines, but his debut appearance on Season 13 seemed to shock Judges the most. Not only did he roll on the floor dressed as a caterpillar, confusing audience members, he got four buzzers after he transformed his costume into a butterfly while making distressed noises.
Sethward went on to return for Season 14, 16, and 17, and will be appearing on AGT: All-Stars.
2. Ben Lapidus's Original Piece of Music, The Parmesan Song, in Season 17
This audition was unique, because it got three Judges to change their minds after originally giving the contestant Xs. While comedy songwriter Ben Lapidus originally left Judges scratching their heads about his relatable cheese loving song, the audience enjoyed every moment.
3. Mr. Pants' Clothing-Themed Comedy Routine on Season 17
Season 17's comedy schtick Mr. Pants delivered clothing pun after pun while dressed in an elaborate trousers costume. He went on to advance to the semifinals, and later returned during the Season 17 finale to deliver an epic roast of Judge Simon Cowell.  
4. Brett Loudermilk's Sword Swallowing Act in Season 15
This fearless act left audiences at the edge of their seat. Loudermilk swallowed an arrangement of intimidating looking swords onstage, asking judges to pull them out, much to the dismay of Sofia Vergara.
5. Metaphysic's Deepfake Technology-Enhanced Act in Season 17
This awesome yet bizarre act shocked America with its hyper-realistic, innovative deepfake technology. The act called Metaphysic turned Cowell's role on its head by using the art of illusion to have him sing onstage. More specifically, they used their technology to transform singer Daniel Emmet's face into an exact replica of Cowell's.
6. Yumbo Dump's Physical Comedy Act on Season 13
Physical comedy act Yumbo Dump kept things simple, albeit entertaining by using their bodies and props to make realistic, everyday sounds. They received an X from Gabrielle Union during their audition, but eventually made it to the quarterfinals.
Yumbo Dump will be reprising their role in AGT: All-Stars
7. Siegfried and Joy's Comedy Magic Act in Season 17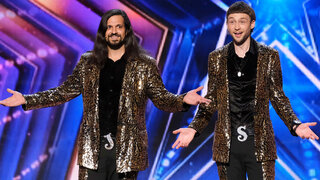 A comedy act, magic act, or both? Siegfried and Joy gave us the best of both worlds with their whimsical tricks. Although their magic act (intentionally) lacked in certain aspects, at least they had the self awareness to laugh about it.
8. Piff the Magic Dragon's Magic Comedy Act in Season 10
Another magic comedy act, Piif The Magic Dragon's sarcastic and aloof persona is what really sold the audience. He didn't seem to care too much about impressing the Judges, and clearly wanted to do his magic tricks his own way.
9. Casper the Singing Dog in Season 16
Singer Pam discovered a secret talent her chihuahua Casper had one night. During their performance of "All By Myself", the pup howled with passion during the chorus, perfectly on cue, leaving the audience and Judges giggling to themselves.  
10. Les Beaux Feres' Circus Artist Act in Season 16
French-Canadian circus artists had a surprise for the Judges during their Season 16 audition. They did an elaborate routine with a pair of white towels, prancing onstage in synch. They did their act precisely enough just to keep things covered – at least for the audience. "I saw everything!" Host Terry Crews winced.
11. Blade 2 Blade's Knife-Throwing Act in Season 17
This audition was so intense and frightening, that it even left Simon Cowell wide-eyed. Knife throwing brother duo Blade 2 Blade described their act as dangerous, and began to toss sharp objects at each other in an intricately choregraphed routine. Even with blindfolds, they managed to remain unscathed, but leaving audiences wincing in fear. "Do not try this at home," Crews remarked. The Judges then praised the frightening adrenaline rush the act gave them. 
To witness more odd auditions, watch AGT on Peacock and NBC.